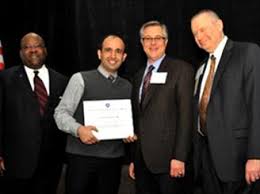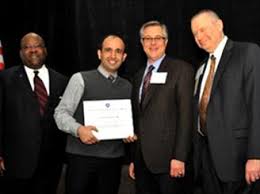 Mehdi Arezoumandi won one of the 2014 O.H. Ammann Research Fellowship awards.
Iranian wins structural engineering fellowship
The US Structural Engineering Institute's (SEI) Technical Activities Division Executive Committee awarded five 2014 O.H. Ammann Research Fellowships in Structural Engineering, according to Saturday's edition of 'Iran Daily'.
The O.H. Ammann Research Fellowship in Structural Engineering is bestowed annually to a member for encouraging the creation of new knowledge in the field of structural design and construction.
The fellowship was endowed in 1963 by O. H. Ammann, Hon. M.ASCE, and was increased in 1985 by Klary V. Ammann (widow of O.H. Ammann).
Arezoumandi completed his Master's in earthquake/structural engineering from Tehran Polytechnic in 2002.
He worked as a structural engineer at Small Industries and Industrial Park Organization (SIIPO) where he was involved in the design of a wide range of civil engineering structures such as buildings, bridges, industrial structures and water reservoirs.
The Iranian researcher came to the United States to continue his education in structural engineering in 2009, seeking a PhD at Missouri University of Science and Technology.
His PhD research focused on evaluating the structural performance of chemically-based self-consolidating concrete, high-volume fly ash concrete and recycled aggregate concrete.
Arezoumandi has published 19 journal papers and 11 conference papers so far.
He received the Nevada Medal for Distinguished Graduate Student Paper in Bridge Engineering in 2013 and is a winner of best poster awards from American Concrete Institute and Precast/ Prestressed Concrete Institute in 2012 and 2013.
Arezoumandi was recently selected as the National University Transportation Center's Student of the Year in 2014.