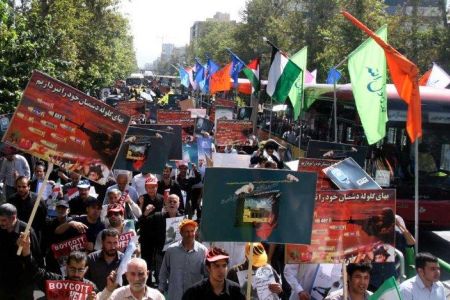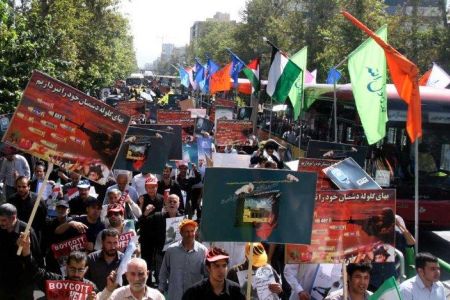 In a declaration issued at the end of the rallies on the International Quds Day, Iranians have condemned Israel's continued occupation of Palestine.
The Iranian nation alongside other people around the world marked the International Quds Day on the last Friday of Ramadan in massive rallies to show support and sympathy for Palestinians.
In the declaration, Iranians expressed their full support for the Palestinian nation, Palestinian resistance movements and Intifada.
Iranians reiterated that the freedom of Palestine is a worthy aim of the Islamic Revolution and the policy of the founder of the Islamic Republic, Ayatollah Rouhollah Khomeini.
The declaration also warns the European powers and the "compromising governments in the region" to learn from the fates of the criminal regimes throughout history and do their best to make sure true peace is fulfilled and the will of the Palestinians is realized.
Iranians also condemned the silence of some Islamic countries regarding the occupation of Palestinian territories and Israeli atrocities, and demanded they take "practical steps" and stop their dual policies as well as their practical support for Israel.
The declaration also hailed Iran's success in launching its first nuclear power plant in Bushehr, despite "hostile attempts by the global arrogance and the criminal Zionism," and condemned any schemes that would violate Iran's rights to a peaceful nuclear energy program.
With recent US and Israeli threats of attacks on the Islamic Republic of Iran, Iranians cautioned against any such moves, stressing that the nation's response would be quick, determined, and with a wide-ranging scope that goes far beyond the region.
The declaration was issued following massive rallies in support of Palestinian resistance against Israel.
Initiated by the late founder of the Islamic Revolution in Iran, Imam Khomeini, the International Quds Day marks the last Friday of the holy month of Ramadan, when Muslims throughout the globe are urged to hold rallies in support of the Palestinian resistance against what Imam Khomeini commonly referred to as "the illegitimate Israeli regime occupying Palestine."