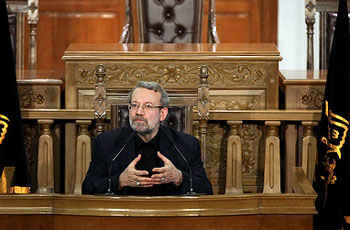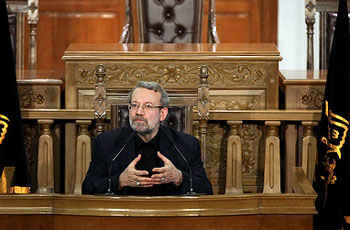 Majlis Speaker Ali Larijani says the Iranian people are fed up with the UK behavior.
Larijani told a press conference that Iranian students' sit-in protest outside the UK Embassy in Tehran on Tuesday reflected the Iranian nation's opinion on the British government.
He said the Iranian nation, old and young, are unhappy with the behavior of the British government over the past few decades.
He added that the British government can prove this by conducting an opinion poll if it has any doubt.
He noted that the Islamic Republic of Iran has times and again been subjected to the mischievous and adventurism approaches of the British government.
The top parliamentarian said the London government could adopt different approach in the post-1979 Islamic Revolution but it continued its hostile approach.
The Iranian Speaker said the British government apparently thinks that it can continue its policy under pretext of diplomatic intricacy but Britons should know that Iran's decision to downgrade UK ties was a response to improper behaviors of the London government.
Commenting on Iran-EU ties, Larijani said the European Union comprises a group of states which have economic relations with Iran in a logical manner but there are certain other groups of states with which economic ties have been reduced due to their behavior.
"We recommend other states to speak politely. Any government can make decision based on behavior of the other party."