Days of Allah
Iran
Middle East
Ramadan
Iranians Hold Eid al-Fitr Prayers with Health Protocols
Tehran witnessed different scenes on Sunday morning as Eid al-Fitr prayers were held all over the capital with limited crowds gathered in mosques due to coronavirus epidemic.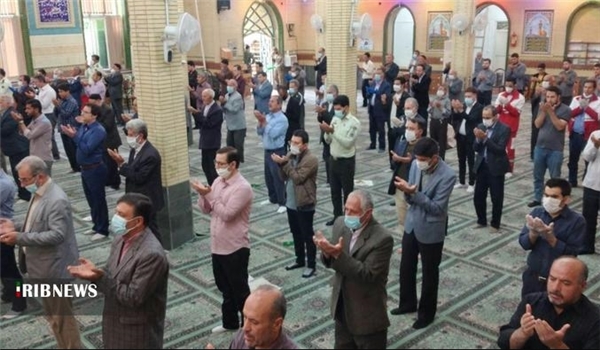 After one month of fasting, people held Eid al-Fitr prayers and celebrated this auspicious day. The prayers were held while observing health instructions and social distancing by the faithful to prevent coronavirus spread.
Previous years, Eid al-Fitr prayers in Tehran were held in huge crowds at Imam Khomeini Grand Mosalla (Prayer Site) and Ayatollah Khamenei led the Eid prayers as usual.
But this year it was held in small crowds in mosques and outdoors which was allowed by the Health Ministry.
Due to coronavirus outbreak, all mosques in the city were closed; but today after nearly three months, people gathered to perform Eid al-Fitr prayers.
Last year on the occasion of Eid al-Fitr, Supreme Leader of the Islamic Revolution Ayatollah Seyed Ali Khamenei, addressing worshipers in Tehran, reassured that the so-called "Deal of the Century" plot of the US against Palestine will never materialize.
Ayatollah Khamenei, delivering a sermon at Imam Khomeini's Mosalla in Tehran after leading Eid al-Fitr's prayers there, underlined that the upcoming US-devised deal, known as the "Deal of the Century", on the Palestine issue is doomed to fail and will "never materialize."
The Leader further rejected US President Donald Trump's yet-to-be-unveiled deal on the decades-long Israeli-Palestinian conflict as "a betrayal of the Muslim world."
Ayatollah Khamenei further denounced the Bahraini regime for agreeing to host a conference, where Washington is set to unveil parts of the plan later this month.
All Palestinian groups — along with the United Nations and several other countries — boycotted the event.