Awakening
Iran
Iraq
Islamic Unity
Middle East
Iranians, Iraqis launch online campaign to stress unbreakable bond
An online campaign launched by Iranian and Iraqi users against foreign meddling has become a top trend on the social networking website Twitter, underlining their intimate bonds after recent attacks on Iran's consulate in Karbala.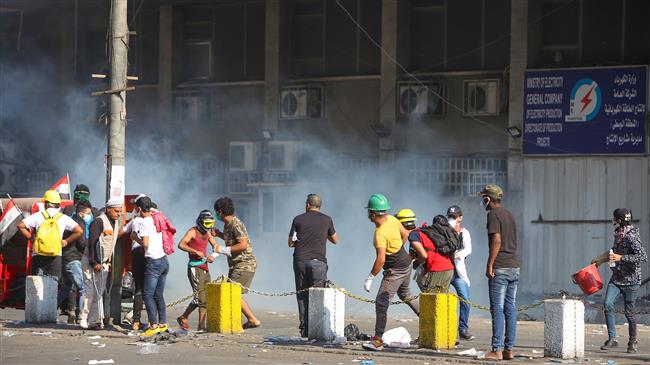 The campaign launched on Friday uses two main Arabic hashtags in support of friendly ties between Tehran and Baghdad.
On Wednesday, tribal heads in Karbala visited Iran's diplomatic mission to apologize for attacks by a group of assailants on the building during a recent spate of unrest in Iraq.
According to the online campaign, "some regional countries and their Western allies wrongly believe that they can conceal their repeated defeats against the Axis of Resistance", which includes Iraq and Iran.
They specifically sought to punish the people of Iraq for hosting millions of Iranians and pilgrims from other countries during annual Arba'een processions, which are held in the holy Iraqi city of Karbala, it said.
Iraqi cities have been the scene of anti-government protests for days, which were initially peaceful but later turned violent.
At the start of October, street protests erupted in several Iraqi cities over unemployment and a lack of basic services. An official investigation found that a total of 157 people, including civilians and security forces, had been killed in the first round of the rallies in the capital and other cities.
Plot to sow discord between Iran, Iraq will fail: LeaderLeader of the Islamic Revolution Ayatollah Seyyed Ali Khamenei has said that the Iranian and Iraqi nations are connected through faith.
Last month, Leader of the Islamic Revolution Ayatollah Seyyed Ali Khamenei said the Iranian and Iraqi nations are connected through faith and that an enemy plot seeking to sow discord between the two will fail.
"Iran and Iraq are two nations whose hearts & souls are tied together through faith in God, love for Imam Hussein and the progeny of the Prophet (PBUH). This bond will grow stronger day by day," the Leader's official Twitter account cited Ayatollah Khamenei as saying.
Iranian officials have called for peace and non-interference in Iraq and Lebanon, blaming the US, Saudi Arabia and Israel for fomenting unrest in the two Arab countries.