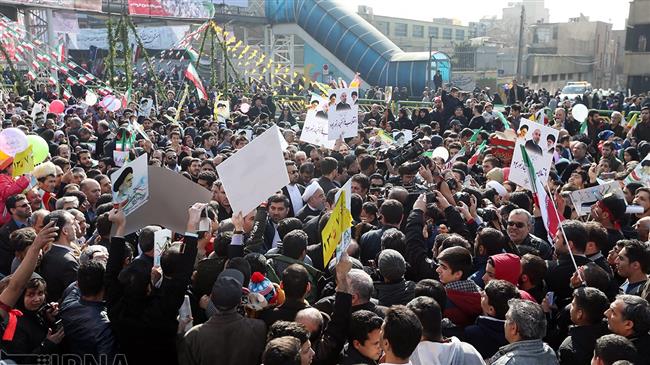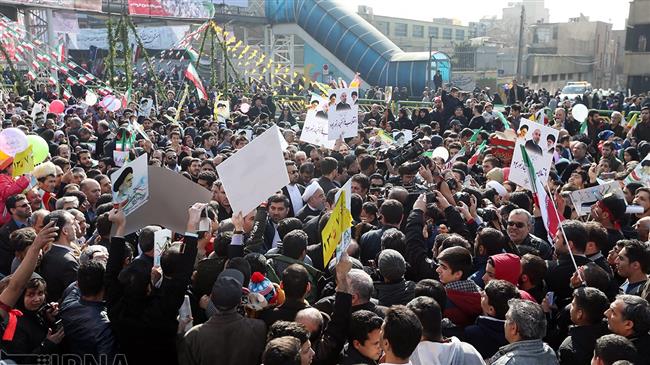 Millions of Iranians are taking to the streets nationwide today to mark the 39th anniversary of the Islamic Revolution in 1979. 
People from all walks of life rally in different cities and towns across Iran each year to celebrate the nation's victory that put an end to the monarchical rule of the US-backed Pahlavi regime.
Each year on the 22nd of the month of Bahman on the Persian calendar, Iranians turn out to renew their allegiance to the Islamic establishment and Imam Khomeini, the late founder of the Islamic Republic.
This year's rallies come amid US President Donald Trump's hostile policies on Iran, ranging from his warning that he might ultimately "terminate" the 2015 nuclear deal to his meddlesome stance on some scattered riots in Iran recently.
In the capital, Tehran, people and officials descended on the iconic Azadi Square, where Iran's President Hassan Rouhani delivered a speech.
Some of Iran's latest defense achievements were put on display at the site, including an anti-tank missile called Toofan M-2 which has a maximum range of 3,750 meters as well as two long-range Qadr ballistic missiles.
A total of 250 foreign reports are covering the event, according to Ministry of Culture and Islamic Guidance officials.
Foreign Minister Mohammad Javad Zarif, who attended the rally in Tehran, said Iran owes its survival and security to the people and their presence at the scene.
Unlike some regional countries that are buying of weapons from world powers, Iran's existence and security is not tied to purchasing arms, he said. "Iran's security is dependent on people's presence at the scene."