Iran
Iranians not looking for war with any country: President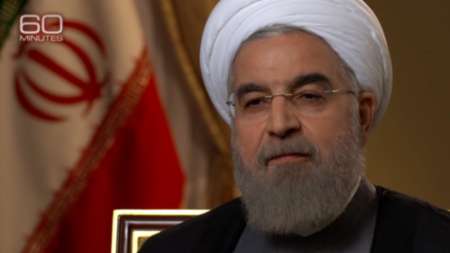 The Iranian people are not looking for war with any country, President Hassan Rouhani said in an interview airing Sunday on CBS' '60 Minutes,'
The president told correspondent Steve Kroft his countrymen's 'death to America' chant is actually a condemnation of US policy going back decades rather than a death wish for Americans.
'This slogan that is chanted is not a slogan against the American people. Our people respect the American people. The Iranian people are not looking for war with any country,' President Rouhani asserted.
But at the same time the policies of the United States have been against the national interests of Iranian people, it's understandable that people will demonstrate sensitivity to this issue, he underlined.
When the people rose up against the Shah, the United States aggressively supported the Shah until the last moments. In the eight-year war with Iraq, the Americans supported Saddam, the president added.
He said Iranians 'will not forget' such deeds.
'We cannot forget the past, but at the same time our gaze must be towards the future,' Rouhani told Kroft.
According to CBS, Iranian president has welcomed the idea that tourism industry can help expansion of two countries' relations
The interview is Rouhani's first with a Western journalist since the Joint Comprehensive Plan Of Action(JCPOA) agreed between Iran and world powers after long period of talks and will touch on many subjects, according to CBS News.
Impact of the JCPOA on Iran-US relations was one of main topics of the interview.