Iran
Middle East
Iranians rally nationwide to condemn terrorist attack in Shiraz
Iranians from all walks of life have taken to the streets across the country to sound their condemnation of a terrorist attack on the Shah Cheragh shrine, a highly revered shrine in the southern city of Shiraz, Fars Province.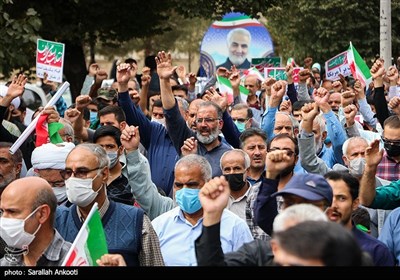 Protesters rallied across Iran, including in the capital Tehran, following Friday prayers. They chanted slogans and held banners calling for bringing those responsible to justice.
Fifteen pilgrims, including a woman and two children, lost their lives and at least 40 others were wounded after a heavily-armed terrorist attacked the popular shrine in Iran's southwestern province. The incident took place at around 5:45 p.m. local time (1415 GMT) on Wednesday just before the evening prayers.
The police commander of Fars province said the attacker opened indiscriminate fire at pilgrims inside the shrine and was himself wounded and arrested by security officials.
Nour News, which is affiliated with Iran's top security body, said the terrorist who carried out the attack was a foreign national. The Daesh terrorist group claimed responsibility shortly after the attack.
CCTV footage released by local authorities showed the terrorist making his way inside the shrine after hiding an assault rifle in a bag and opening fire at worshipers who tried to flee and hide in corridors.
Condemnations poured in from both inside and outside the Islamic Republic of Iran following the incident.
Leader of the Islamic Revolution Ayatollah Seyyed Ali Khamenei has offered condolences to the Iranian nation, assuring that the perpetrators of the "outrageous" crime will definitely face punishment.
The Leader called on security agencies, the Judiciary branch, thinkers, activists, and the entire nation to act in unison to confront the current that is disregarding and disrespecting people's lives, security, and sanctities.
For his part, Iran's President Ebrahim Raeisi has also vowed that the Islamic Republic would deliver a crushing response to those who were behind the bloodshed, saying, "This vicious act will definitely not go unanswered. The country's security and law enforcement forces, having identified the root causes of this heinous crime, will deliver a decisive response to its architects and operatives, which will make them regret their act."