Iran
Middle East
Technology
Iran's domestically-made passenger ship starts sailing from Qeshm
Iran has unveiled a modern domestically-made passenger ship constructed in Qeshm Island south of the country as authorities seek to build on a shipbuilding heritage in the region and sell the vessels elsewhere.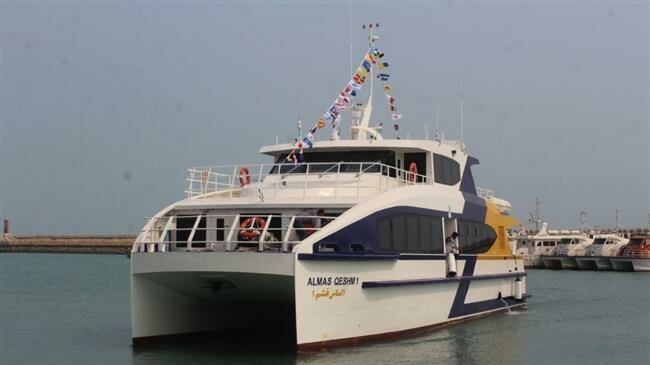 The Almas Qeshm 1 started its maiden voyage on Tuesday after s ceremony attended by Iran's' transportation minister Mohammad Eslami.
Local officials said the full-aluminum two-hull catamaran took some 16 months to build and benefitted from a "unique design".
They said the ship takes 158 passengers and sails on a speed of 22 knots (around 40 kilometers an hour), helping to decrease the current sailing time between Qeshm and Bandar Abbas, a main port in southern Iran, to less than 45 minutes, according to the IRIB news.
The largest island in the Persian Gulf and one of the biggest in the world, Qeshm is totally dependent on passenger vessels to connect to Iran's coastal cities and other islands in the region.
Authorities said a total of 39 ships with a capacity of 4,100 passengers were now operating in shipping lines between Qeshm and other areas.
Qeshm is also home to some of the largest and oldest shipbuilding yards in the Persian Gulf with several solely devoted to constructing oil tankers, container ships and offshore structures.
Allah Morad Afifipour, who heads the local branch of the Ports and Maritime Organization of Iran, said three passenger ships built in yards in Qeshm have already been sold to other countries.
Afifipour said dockyards in Hormozgan province, where Qeshm is located, are capable of building passenger ships in any size, saying Iran would no longer need to buy such vessels from other countries.