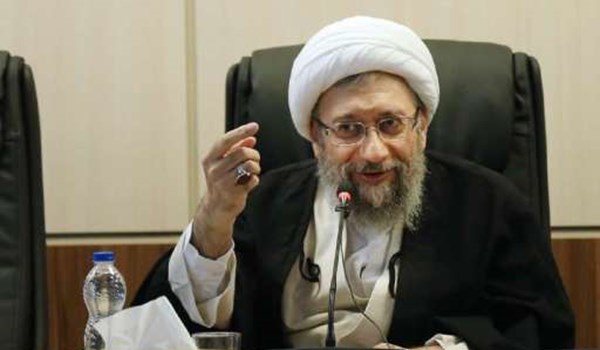 Chairman of Iran's Expediency Council Sadeq Amoli Larijani rapped the British media for not using the word "terrorist" to describe the Thursday barbaric shooting in New Zealand in their reports.
"A number of western media outlets, like the British government media, have avoided using the phrase 'terrorist attack' to report on the incident. While they declare a knife-stabbing incident as a terrorist attack, they have closed their eyes on the crime of the massacre of 49 innocent Muslims," Amoli Larijani said, addressing EC members in Tehran on Saturday.
He expressed the hope that the Muslim nations would pay more heed to this approach and adopt a new policy towards the West's double-standard behavior.
Meantime, Iran's Assembly of Experts in a statement condemned the terrorist attack in New Zealand, describing it as barbaric and an indication of extremist racism against Muslims in the West.
It called on the New Zealand government to seriously confront the culprits behind the attack to prevent similar incidents.
During the worst terrorist attack on New Zealand soil, at least 49 Muslims were killed and 48 more hurt after mass shootings at two Christchurch mosques on Thursday.
The Australian suspect arrested after dozens of worshippers were gunned down in two mosques appeared unrepentant in court in New Zealand on Saturday, staring down media members with a smirk on his face.
Brenton Tarrant, 28, appeared in a Christchurch District Court and was charged with murder. He was remanded without a plea until his next appearance in the South Island city's High Court on April 5.
Handcuffed, shoeless, and wearing a white prison suit, Tarrant did not speak. His court-appointed lawyer made no application for bail or name suppression.
He flashed an upside-down "okay" signal, a symbol used by white power groups across the globe.
Two other suspects were taken into custody while police tried to determine what role, if any, they played in the cold-blooded attack that stunned New Zealand.
Calling it a well-planned terrorist attack, Prime Minister Jacinda Ardern said the main suspect was a licensed gun owner who used five weapons during his rampage, including two semi-automatic weapons and two shotguns.
New Zealand, with a population of five million, has relatively loose gun laws and an estimated 1.5 million firearms, or roughly one for every three people.
Muslims account for one percent of New Zealand's population, a 2013 census showed, most of whom were born overseas.