Iran
Middle East
Science
Iran's first homegrown vaccine awaits green light for mass immunization
Iran's first domestically produced vaccine, COV-Iran Barakat, is awaiting the Health Ministry's authorization to be used in a mass immunization program following the third successful clinical trial.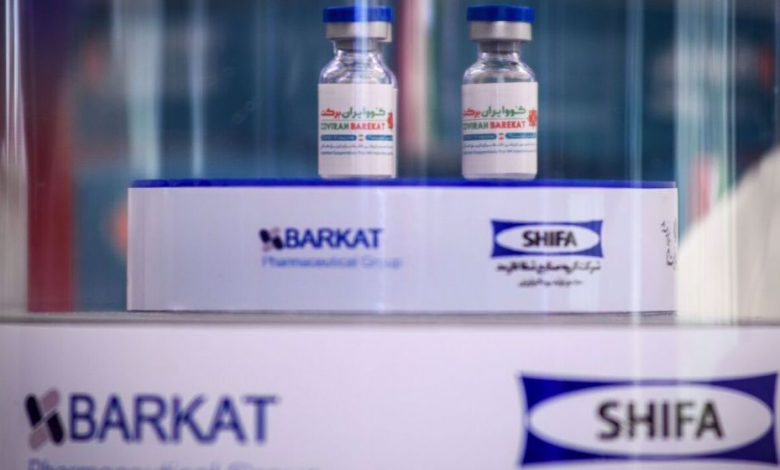 Kianush Jahanpur, head of the ministry's public relations and information center, in a tweet on Monday, said the good news is "on the way", referring to the first Iranian-made vaccine.
Developed by researchers at the Headquarters for Executing the Order of the Imam, COV-Iran Barakat vaccine was unveiled on December 29 last year, while production began on March 29.
The third phase of the vaccine's clinical trial began in late April, conducted in six cities with a population of 20,000 or above, among people in the age group of 18 to 70 years.
On Sunday, head of COV-Iran Barakat vaccine research group Hassan Jalili announced that one million doses of the vaccine will be produced this month, which will be delivered to the health ministry.
The scale of production will increase to 3 million doses next month, followed by 10 to 12 million doses by July, and 13 to 15 million doses by August, according to officials.Iran starts mass production of indigenous COVID-19 vaccineIran
Senior member of Iran's national task force for fighting COVID-19, Minoo Mohraz, on Sunday said the COV-Iran Barakat vaccine is "efficient beyond expectations."
"COV-Iran Barakat vaccine is effective and immune, and we hope that our vaccine would have the highest percentage of efficiency and immunity," she told reporters.
She said Iran no longer needs to import COVID-19 vaccines once the mass production of the domestically-produced vaccine begins, saying public vaccination with COV-Iran Barakat is likely to start mid-June.
Soberana-02 vaccine, jointly developed by Iran and Cuba, is also on the verge of completing its third clinical trial and slated for industrial-scale production.
Developed by Cuba's Finlay Vaccine Institute and Pasteur Institute of Iran, it will be the first coronavirus vaccine to be produced in Iran through the transfer of technical knowledge, Jahanpur said earlier this week.
He said the vaccine has shown significant level of safety and efficacy during clinical trials, first in Cuba and then in Iran.
Iranian vaccines
Beside COV-Iran Barakat, which is ready for industrial line production, knowledge-based industries in Iran have been engaged in clinical trials of other COVID-19 vaccines as well.
A vaccine developed by Iran's Razi Vaccine and Serum Research Institute, Razi Cov Pars, is the second domestically produced vaccine, which is expected to be ready for mass production by early August.
Import of vaccines
Iran began mass vaccination against COVID-19 with the Russian-made Sputnik V vaccine on February 9, after the country's top authorities rejected US and UK-made vaccines.
Iran has received vaccine shipments from Russia, China and the COVAX initiative.
So far, according to government statistics, around 3.5 million have received one dose of the vaccine, while around 516 thousand people have recently received both doses, mostly frontline health workers, elderly people and other high-risk groups.
Some 70,000 patients battling with rare diseases have also received the jabs.
The country was caught in the grip of the fourth wave of the pandemic after the New Year holidays; however, the cases have dropped significantly in recent weeks.
President Hassan Rouhani on Saturday said if the production of vaccines goes according to plan, vaccination of people with underlying diseases will wrap up by late July, and the whole population will be vaccinated by late November.
He expressed hope that when the homemade vaccine enters the market, conditions will become better.
According to the head of Iran's food and drug administration (IFDA), Mohammad Reza Shanehsaz, Iran has the capacity to produce 197 million doses of COVID-19 vaccines by April next year.
Iran has also offered to export its homegrown vaccines to other countries. At least seven countries have reportedly elicited their interest in buying the Iranian vaccine.