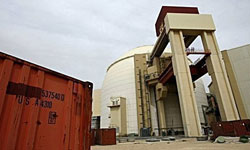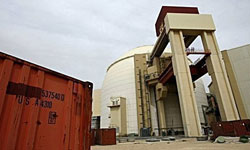 Iran's first nuclear power plant in the Southern port city of Bushehr will reach its 100% power generation capacity by the next month, the Russian contractor in charge of the construction of the plant announced.
"As planned, Bushehr Nuclear Power Plant will become 100 percent operational in August 2012," the director of NIAEP, the managing company of Atomstroyexport, Valery Limarenko, told reporters on Thursday.
Limarenko added that all conditions for making Bushehr Power Plant operational have been prepared.
The power plant's utmost power for the generation of electricity is 1,000mw.
Iran signed a deal with Russia in 1995, according to which the plant was originally scheduled for completion in 1999. However, the project was repeatedly delayed by the Russian side due to the intense pressure exerted on Moscow by the United States and its western allies. Russia finally completed physical construction of the plant last summer, but the facility still needed one more year to gradually reach full power generation capacity.
On October 26, 2010, Iran started injecting fuel into the core of the Bushehr nuclear power plant in the initial phase of launching the nuclear reactor.
In 2011 Iran started using 500MW of nuclear-generated electricity, half the nominal capacity of the Bushehr power plant.
Iran held a ceremony in September to mark the preliminary launch of the Bushehr plant.
The facility operates under the full supervision of the International Atomic Energy Agency (IAEA).