Economy
Iran
Middle East
Iran's First VP Hails Results of Planned Reduction in Iran's Dependence on Oil Revenues
Iranian First Vice-President Eshaq Jahangiri stated on Tuesday that the country has taken a wide stride in reducing its dependence on crude revenues during the course of a several-year-long planning.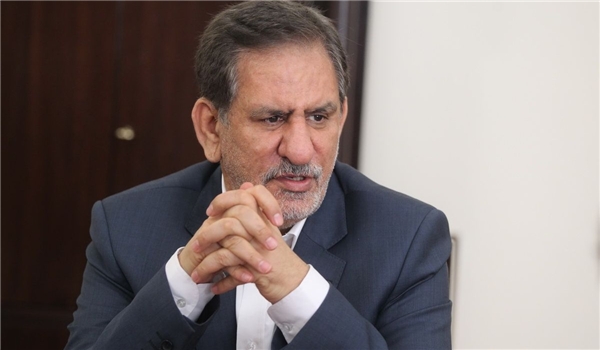 "Fortunately, as a result of efforts made in recent years, the extent of budget's dependence on oil revenues has reduced so much," Jahangiri said, addressing a meeting of the Supreme Council for Science, Research and Technology in Tehran on Tuesday.
He reminded that the government's budget depended 80% to 90% on oil in the past, saying, "This dependence has today decreased to 30%."
In relevant remarks last month, Iranian Industry Minister Reza Rahmani said that the government is resolved to set the stage for a major increase in the volume of non-oil exports in the current local calendar year (March 21, 2019-March 20, 2020).
"One billion dollars of exports creates 50,000 jobs," Rahmani said in a meeting in the Western province of Kermanshah, underlining the significance of facilitating exports.
"Production prosperity and preserving production units play a great role in job creation and uprooting unemployment," he added, calling on all the state-run organizations to cooperate for reaching the set exports targets.
Also, in March, Supreme Leader of the Islamic Revolution Ayatollah Seyed Ali Khamenei said that economic issues still remained atop the country's concerns, and called on the government and the nation to boost production in the country.
Ayatollah Khamenei, in his televised message to the nation on the occasion of the New Persian Year, offered congratulations to the Iranians on the occasion of Nowruz, and named the New Year of 1398 as the year of "Pick-up in Production".