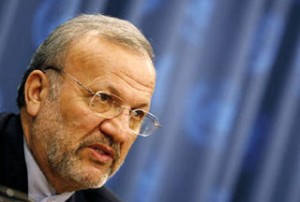 Iran's Foreign Minister Manouchehr Mottaki has arrived in the Lebanese capital, Beirut, at the head of a high-ranking delegation.
Mottaki, who arrived in Beirut late Sunday, is to meet with Lebanese President Michel Suleiman, Lebanon's Parliament Speaker Nabih Berri, Lebanese Prime Minister Saad Hariri and Lebanon's Foreign Minister Ali Shami.
Regional issues and other mutual interests will be discussed during Mottaki's appointments with the Lebanese officials.
Iran's foreign minister's deputy in Arab countries and Central Asia affairs is accompanying him during his visit to Lebanon.
This is Mottaki's first official visit to Lebanon since the new Lebanese government took office last month.