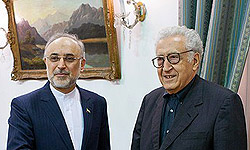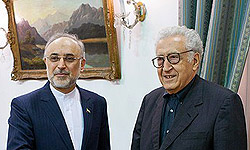 Iranian Foreign Minister Ali Akbar Salehi and UN-Arab League Special Envoy on Syria Lakhdar Brahimi, in a phone conversation, lauded halt of armed clashes in Syria.
The truce in Syria was put into effect on Friday morning after Syria's General Command of Army declared truce for Eid al-Adha holidays
The General Command, however, said in a statement on Thursday it would also respond to "terrorist groups trying to reinforce their positions by arming themselves and getting reinforcements" as well as neighboring countries facilitating the smuggling of fighters across borders during that period.
According to Syrian army sources, the truce will last until Monday.
During the phone conversation on Thursday evening, Salehi said the temporary ceasefire in Syria will be an important step towards the political resolution Syrian crisis.
Brahimi, for his part, expressed the hope that all sides would completely observe the truce to prepare the ground for establishing sustainable peace and stability in the country.
Syria has been experiencing unrest since March 2011. Damascus says 'outlaws, saboteurs, and armed terrorists' are the driving factor behind the unrest and deadly violence, while the opposition accuses security forces of being behind the killings.
The Syrian government says the chaos is being orchestrated from outside the country, and there are reports that a very large number of the armed insurgents are foreign nationals.