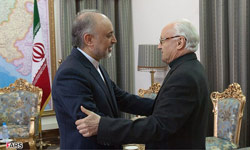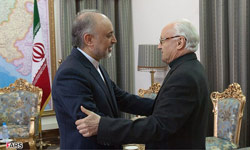 Iranian Foreign Minister Ali Akbar Salehi and the Vatican's outgoing Ambassador to Iran Archbishop Jean Paul Goble called for stronger relations between Tehran and the Vatican.
During the meeting here in Tehran on Sunday, Salehi pointed to the good relations between Iran and the Vatican, and expressed the hope that the bilateral ties between the two sides would further consolidate.
Salehi said talks between Islam and Christianity provide a proper opportunity to review global problems and work out solutions to the exiting problems.
Archbishop Goble, for his part, congratulated the 34th anniversary of the victory of the Islamic Revolution in Iran, and voiced the Vatican's determination to continue talks with Iran.
In November, senior cultural officials from Iran and the Vatican explored avenues for the further expansion of bilateral relations, specially in cultural fields.
The meeting was held between Head of Organization of Culture and Islamic Communication Mohammad Baqer Khorramshad and Vatican Minister of Culture Cardinal Jianfranco Ravazi.
The meeting was also attended by head of center for dialogue between religions and civilizations Ali Mohammad Helmi and Iran's Charge d'Affaires Mohsen Borhani.
The Iranian official appreciated good cooperation of the Vatican Ministry of Culture and Supreme Pontiff Council with Organization of Culture and Islamic Communication, especially for holding the 8th round of talks between Iran and Vatican scholars.
He added that OCIC, with more than 70 cultural representative offices around the world, is working in the fields of culture, art, literature and dialogue among religions and wishes to expand its activities with Vatican, the Islamic republic news agency reported.
Cardinal Ravazi, for his part, expressed pleasure with dialogue between Iranian delegation and Supreme Pontiff Council and said that Vatican welcomes different activities in the fields of art and sciences.