China
Asia-Pacific
Iran
Middle East
Iran's foreign minister says Tehran resolute on implementing strategic partnership deal with Beijing
Iranian Foreign Minister Hossein Amir-Abdollahian says the Islamic Republic is determined to implement the 25-year comprehensive strategic partnership agreement that was signed by Iran and China in March, hailing Beijing's "valuable" efforts to send Chinese-made coronavirus vaccines to Tehran.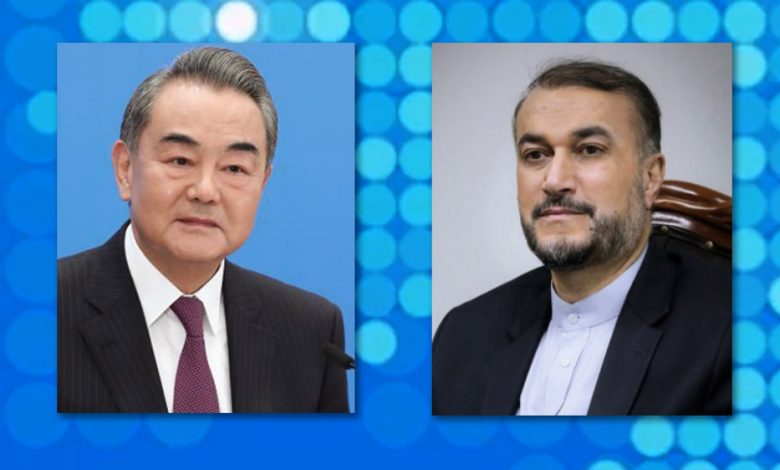 In a phone call on Friday, China's State Councilor and Foreign Minister Wang Yi and Amir-Abdollahian discussed bilateral ties, the latest developments regarding the 2015 nuclear agreement, officially known as the Joint Comprehensive Plan of Action (JCPOA), and key regional and international issues.
Back in March, Iran and China signed the 25-year strategic deal to strengthen long-standing economic and political alliance. It aims to boost economic cooperation between the two countries and paves the way for Iran's participation in the Belt and Road Initiative, a massive infrastructure project stretching from East Asia to Europe.
Amir-Abdollahian also pointed to talks between Iran's Deputy Foreign Minister Ali Baqeri-Kani and the EU's deputy foreign policy chief Enrique Mora in Tehran on Thursday and said the Islamic Republic's definite policy is based on the effective and full lifting of all unilateral and illegal sanctions imposed by the United States. He also criticized inaction of the three European signatories to the JCPOA – Britain, France and Germany – on Washington's illegal measures.
The top Iranian diplomat said as confirmed by both sides, Tehran and the EU started talks in a "positive and constructive" direction and agreed to continue the negotiations at the current level in Brussels within the next two weeks.
The Chinese foreign minister, for his part, said his country is ready to implement the strategic partnership deal with Iran, adding that Beijing is committed to cooperating with Tehran to contain the coronavirus and supply the required vaccines in any amount and as long as requested. Yi said China would continue its cooperation and consultations with Iran at different levels at regional and international organizations as the two countries are resolute on the expansion of all-out relations.
He welcomed the resumption of negotiations between Iran and the EU on the future of the Vienna talks to remove Washington's anti-Iran sanctions; and once again reaffirmed China's stance on the importance of all JCPOA parties' return to their obligations as per the agreement.