Iran
Iran's IRGC tests missiles, drones in massive military drills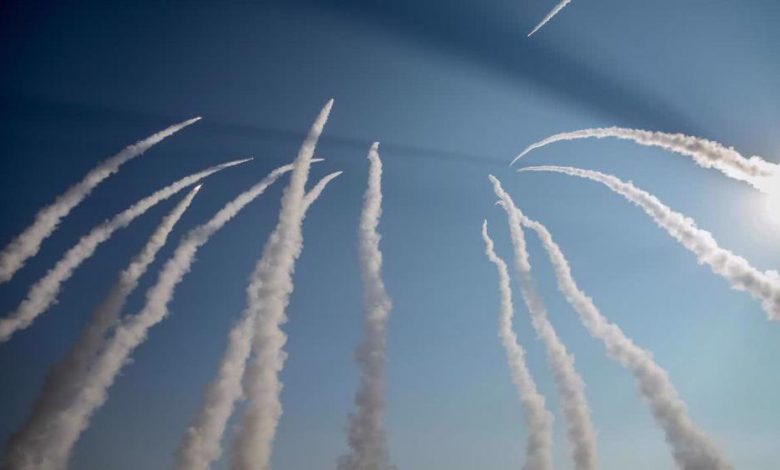 Iran's home-grown and long-range missiles have destroyed mock enemy warships with pin-point accuracy, hundreds of kilometers away, in the northern Indian Ocean as the Islamic Revolution Guards Corps (IRGC) conducts massive military drills.
During the second and last stage of the drills, codenamed the Great Prophet 15, the IRGC's missiles detected and destroyed the targets as they were sailing 1,800 kilometers away in a remote area in the ocean.
The mock attacks were carried out on Saturday morning with the presence of Chairman of the Chiefs of Staff of the Iranian Armed Forces Major General Mohammad Baqeri, IRGC Chief-Commander Major General Hossein Salami, IRGC Aerospace Commander Brigadier General Amir-Ali Hajizadeh and a number of other high-ranking Iranian commanders.
'Ballistic missiles to be used against warships'
Speaking to reporters on the sidelines of the Great Prophet 15 military exercise on Saturday, Major General Salami said destruction of hostile aircraft carriers and warships with long-range ballistic missiles is among Iran's main defense strategies.
"One of our main purposes in defense policies and strategies is to be able to hit the enemy's warships, including aircraft carriers and battle cruisers, with long-range ballistic missiles," Salami said.
"While it is customary to destroy mobile naval targets with low-speed cruise missiles, Iran can launch ballistic missiles from inland territories to hit targets in the ocean," the IRGC chief said, praising the tactic as a great defense achievement of the IRGC Aerospace Force.