Iran's Judiciary Chief Lauds Iraqi Groups' Unity as Cause of Recent Victories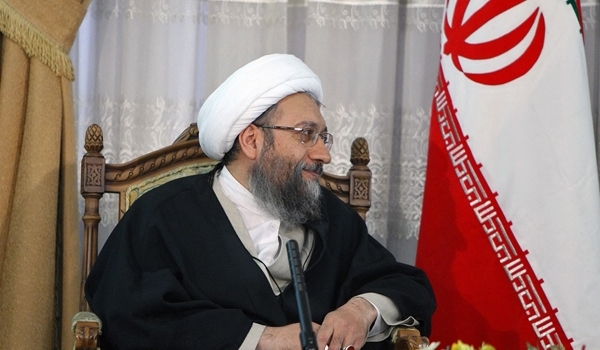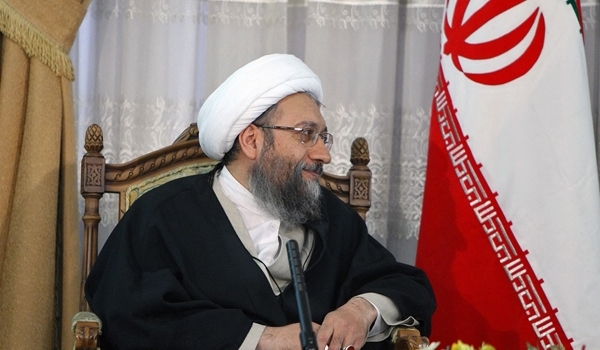 Iranian Judiciary Chief Sadeq Amoli Larijani in a meeting with Head of the Islamic Supreme Council of Iraq Ammar al-Hakim in Tehran on Wednesday hailed unity among different Iraqi groups as the main cause of the country's recent victories over ISIL.
"The Iraqi groups' unity against the ISIL Takfiri current is a very successful experience that will direct that country towards stability, tranquility and development in future," Amoli Larijani said during the meeting.
The Iranian judiciary chief, meantime, pointed to Iran-Iraq bilateral ties, and said, "Expansion of bilateral ties between Iran and Iraq will result in reinforcing security and stability in the region."
Hakim, for his part, briefed Amoli Larijani on the latest developments of Iraq, and said, "Fortunately, the recent plots hatched against Iraq were foiled by the help and support of the Iraqi government, people and the religious authorities."
The head of the Islamic Supreme Council of Iraq appreciated Iran for its major help and assistance to his country in the ongoing campaign against the ISIL.
Iranian officials have always emphasized the country's determination to support campaign on terrorism in every part of the world.
In relevant remarks in December, Iranian Parliament Speaker Ali Larijani underscored the country's support for those world states, specially the ones in the region, that take real and practical measures against terrorism.
"We have adopted practical measures in fighting terrorism and if other countries take practical measures in this regard too, we will support them," Larijani said in a joint press conference with his Iraqi counterpart Salim al-Jabouri in Baghdad.
Larijani who was earlier in Syria and Lebanon before visiting Iraq, underlined that the three countries' determination to fight terrorism was appreciable.
"The Islamic Republic of Iran supports the determination of these governments to fight terrorism," he added.
Tehran in December hosted the first International Conference of the World Against Violence and Extremism (WAVE).
The WAVE conference came in the aftermath of a proposal by President Rouhani during his address to the UN General Assembly meeting in New York on September 25, 2013, which received the approval of the UNGA after being endorsed by an overwhelming majority of the member states on December 18, 2013.
During his address to the opening of the 1st WAVE conference in Tehran, President Rouhani proposed that December 18 be named as the International Day against Violence and Extremism.
The participants in the Tehran conference welcomed the proposal in their final statement, and underscored the necessity for the world states, politicians and religious leaders to condemn terrorism, violence and extremism in all forms.