Iran
Iran's Majlis Vice Speaker hails nuclear negotiating team's approach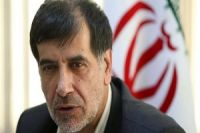 Iran's Majlis Vice Speaker Mohammad Reza Bahonar on Monday, hailed nuclear negotiating teams approach.
Talking to IRNA, Bahonar noted that Iranian negotiating team is committed to convince 5+1 Group about the peaceful nature of Iran's nuclear program.
He underlined the negotiating team pursed the rights of nation and observed the red lines during negotiations.
The senior MP noted that Iran is committed to go ahead with the talks but it will not give up its right to peaceful use of nuclear energy.
Iran and the six world powers wrapped up their latest round of nuclear talks in Vienna on Friday.
Iran says there has been no tangible progress in writing the draft text of a comprehensive agreement over the country's nuclear energy program.