Iran
Middle East
Iran's Mass-Produced MQ1 Drones Flown during IRGC Drills in Persian Gulf
Commander of the Islamic Revolution Guards Corps Aerospace Force Brigadier General Amir Ali Hajizadeh announced that the IRGC has used the home-made model of the US MQ1 Predator drone during the Thursday wargames in the Persian Gulf.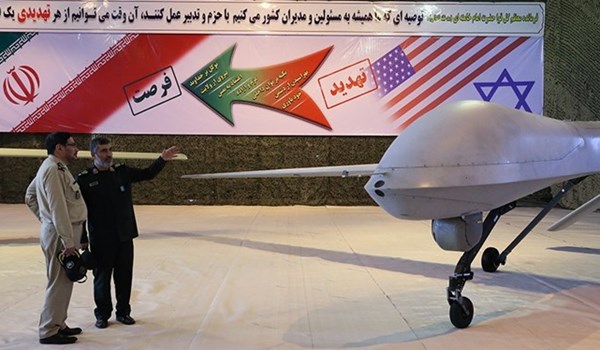 Iran currently possesses the biggest collection of captured or downed American and Israeli drones, including the US MQ1, MQ9, Shadow, ScanEagle, and RQ-170 as well as the Israeli regime's Hermes.
Flying the Iranian model of MQ1 drone in the Thursday drills in the Persian Gulf indicates that the country has mass-produced the pilotless aircraft.
During the drills on Thursday, the IRGC Aerospace Force flew tens of unmanned aerial vehicles toward a target on a small island in the Persian Gulf.
The squadron of the aerial vehicles, including 50 Iranian versions of the US RQ-170 Sentinel stealth drones, took off from bases as far as a thousand kilometers away from the operation zone to bomb the target.
The 50 domestic RQ-170 drones and a number of other combat and bomber drones attacked a spot on Bani Farur Island in Iran's territorial waters in the Persian Gulf.
All the aircraft in the wargames successfully bombed the target at the same time.
The wargame was attended by IRGC Deputy Commander Brigadier General Hossein Salami, General Hajizadeh and Commander of the Khatam al-Anbia Headquarters Major General Gholam Ali Rashid.
General Rashid told reporters that the large-scale exercises with such a high number of home-made drones, should humiliate the enemies who want to mar the country's integrity.
Iran grounded the RQ-170 drone in December 2011 using electronic warfare techniques, as the stealth aircraft was flying over the Iranian city of Kashmar near the Afghan border.
According to the IRGC Aerospace commander, Iran used the reverse-engineered version of the RQ-170 drone to target the ISIL positions in Syria and Iraq.
The Israeli drone, Hermes, was intercepted and shot down in October 2014 by the IRGC forces on its way to the Natanz nuclear facility in the central Isfahan province.
General Hajizadeh had earlier said that in the field of unmanned aerial vehicles, Iran is now one of the world's top four or five countries, and the first drone power in the region.