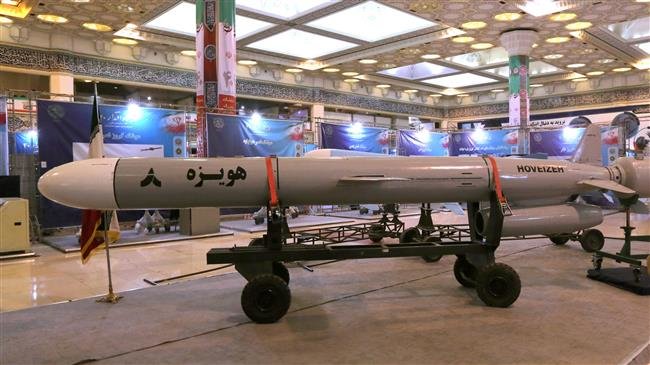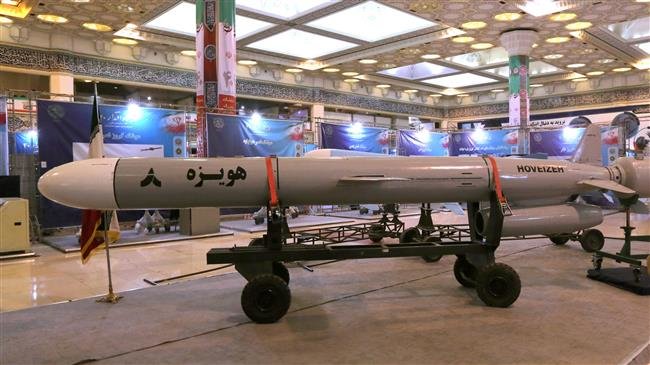 Iran's new Hoveyzeh cruise missile can bypass all existing American and Israeli defense systems and hit any target in the occupied territories without being detected, Israeli sources have said.
Named after a city in southwest Iran known for its resistance during the 1980s Iraq-Iran war, the surface-to-surface missile with a range of more than 1,350 kilometers was unveiled Saturday, during celebrations marking the 40th anniversary of the 1979 Islamic Revolution.
"This cruise missile has a very short preparation time and can fly at low altitude," Iranian Defense Minister Brigadier General Amir Hatami said during the unveiling ceremony.
Citing unnamed military sources, Israeli website DEBKAfile warned in a report on Sunday that the missile could easily reach its designated target without being detected by the most advanced Israeli and American radars.
DEBKAfile is an Israeli military intelligence website based in Jerusalem al-Quds, providing commentary and analyses on intelligence, security, military and international relations, with a particular focus on the Middle East.
"Iran is confident that neither the United States nor Israel has the answer to this threat," read the report. "And indeed, say our military experts, no military force in the world has so far found an effective means of intercepting cruise missiles before they strike, unless they are of short range."
The key to Hoveyzeh's accuracy and resilience is its ability to fly under the radar of missile defense systems that Israel and the US have been producing to specifically target Iranian ballistic missiles that fly out of the atmosphere before taking a dive towards their target, the report said.
The website called Hoveyzeh Iran's response to Israel's "successful" test of the Arrow-3 ballistic missile system in late January.
None of the current US-Israeli missile systems, including Iron Dome, David's Sling and the Arrow family are capable of detecting Hoveyzeh, it warned.
Iran unveils a long-range surface-to-surface missile amid celebrations for the 40th anniversary of the 1979 Islamic revolution.
DEBKA's sources told the website that Iran had already mastered the know-how to build cruise missiles that can "hug mountains and hills and dip into valleys" to stay below the radar.
The report said the only way that American and Israeli commanders could hope to intercept Hoveyzeh and other Iranian cruise missiles was to deploy aircraft carrier strike groups and use all sorts of radars and electronic controls on board warships and the aircraft they carry.
Even if successful, this scenario could only prove helpful in situations where the missile had to cross vast bodies of water, the only places that such huge concentration of warships and other military equipment could be deployed to.
This is while Iranian missiles can easily cross Iraqi and Syrian airspace before reaching Israeli territories, rendering all nearby US warships and their possible defenses useless against a possible attack.
DEBKA further blasted Western attempts to play down Hoveyzeh's successful test and Tehran's "great strides" towards developing its advanced missile deterrence.