Latin America
Iran
Middle East
World News
Iran's newly-elected President Raeisi calls for promotion of political, economic ties with Latin America
Iran's newly-elected President Ebrahim Raeisi has reaffirmed the Islamic Republic's policy to strengthen relations with Latin American countries.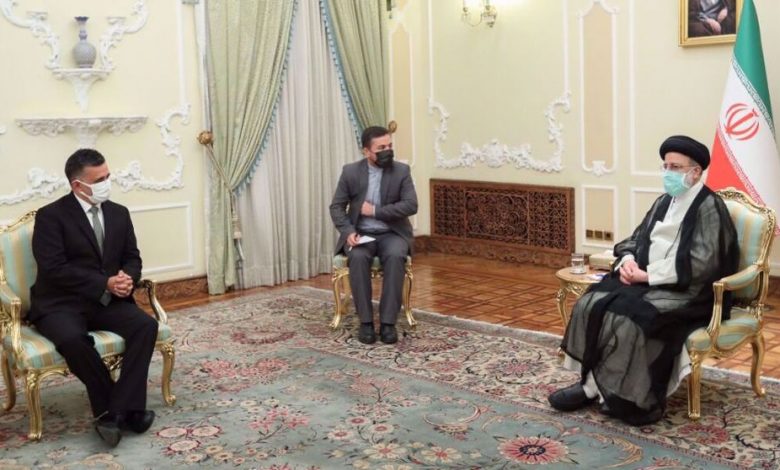 "Strengthening political and economic relations with Latin American countries is among Iran's foreign policy priorities," Raeisi said in a meeting with the secretary-general of the Bolivarian Alliance for the Peoples of Our America (ALBA), Sacha Sergio Llorenti Soliz, in Tehran on Wednesday, adding that Iran and ALBA member states have common values.
He noted that "the Islamic Republic of Iran is determined to further strengthen its political and economic relations with the member states of the alliance …. in light of the common values and positions of the two sides."
He called for the promotion of the level of cooperation between Iran and ALBA countries in various bilateral, regional and international issues.  
He underlined the need for further activation of the level of cooperation between Iran and Latin American countries to thwart the plots by hegemonic countries and those seeking excessive demands to undermine independent and freedom-seeking nations.
For his part, Llorenti offered congratulations of the ALBA member states to Raeisi on his election.
He said ALBA seeks to further enhance relations with the Islamic Republic of Iran.
"Iran and the Alba alliance have much in common, and both seek to defend the independence and sovereignty of nations and to stand up to excessive US demands," he added.
Founded initially by Cuba and Venezuela in 2004, ALBA is an intergovernmental organization based on the idea of the social, political and economic integration of the countries of Latin America and the Caribbean.
The ten member countries are Antigua and Barbuda, Bolivia, Cuba, Dominica, Grenada, Nicaragua, Saint Kitts and Nevis, Saint Lucia, Saint Vincent and the Grenadines and Venezuela.
The remarks come as high-ranking foreign officials from around the world are arriving in Tehran to attend the swearing-in ceremony of Raeisi, whichis set to be held at 5:00 p.m. local time (1230 GMT) on Thursday, August 5.
Leader of the Islamic Revolution Ayatollah Seyyed Ali Khamenei officially endorsed Raeisi as the eighth president of Iran during a ceremony in Tehran on Tuesday.