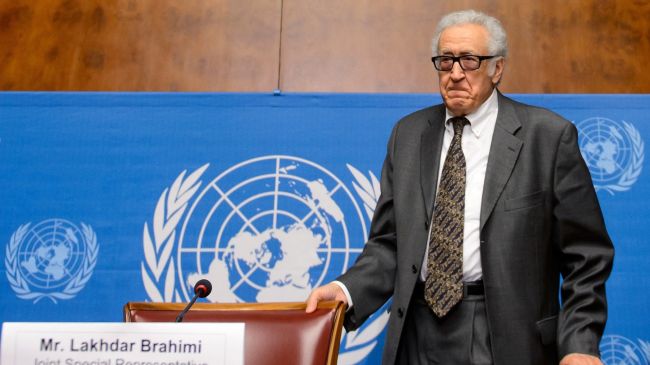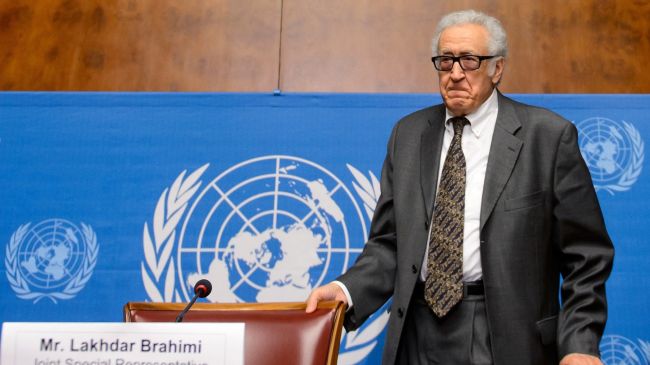 UN-Arab League envoy Lakhdar Brahimi says Iran's presence in the peace talks on Syria could be useful, adding that the mediators will seek Tehran's cooperation in the future.
On Tuesday, Syrian Information Minister Omran al-Zoubi demanded that "Iran should be part of the region's issues and its solutions, especially in the Syrian crisis. It should have been invited to Geneva II… since its role cannot be ignored."
In response, Brahimi said, "I think we will try to talk and cooperate with Iran in the future, so it would do its role and bear its responsibility in the region."
He also admitted that there has not been any breakthrough yet in the talks between the delegations from the Syrian government and foreign-backed opposition.
"Nobody's walking out. Nobody's running away," he said. "We have not actually made a breakthrough, but we are still at it, and this is enough as far as I'm concerned."
The two sides have been negotiating in Geneva over the past few days, with talks deadlocked over the opposition's insistence that Syrian President Bashar al-Assad resign.
Brahimi also said that the US and Russia are working hard to find a solution to the conflict in Syria, adding that the talks will continue through Friday.
The Geneva 2 conference, aimed at finding a political solution to the Syrian crisis, has been underway in Switzerland since January 22.
Syrian Foreign Minister Walid al-Muallem has expressed regret that some countries attending the international conference "have the blood of Syrian people on their hands."
Syria has been gripped by deadly unrest since March 2011. According to reports, the Western powers and their regional allies — especially Qatar, Saudi Arabia, and Turkey — are supporting the militants operating inside Syria.
According to the United Nations, more than 100,000 people have been killed and millions displaced due to the violence.