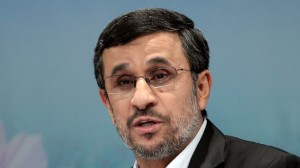 Iran's President Mahmoud Ahmadinejad has cancelled a planned visit to Baghdad after his Iraqi counterpart Jalal Talabani suffered a stroke.
The Iranian president was scheduled to pay an official visit to Iraq late in December to hold talks with senior Iraqi officials on ways to bolster bilateral cooperation.
Ahmadinejad was also expected to meet with members of Iraqi factions and sects and pay visits to Iraq's holy shrines where Shia Imams and their descendants have been put to rest.
However, the trip has been called off due to Talabani's "unspecified health conditions."
The 79-year-old president suffered a stroke and was admitted to a Baghdad hospital Monday night. He arrived in Germany for further medical treatment on Thursday.
On Tuesday, President Ahmadinejad expressed Iran's readiness to cooperate in the process of his Iraqi counterpart's treatment.
He said the Islamic Republic is ready to provide all-out cooperation in the Iraqi president's treatment in light of the valuable experience and specialization of Iranian physicians.