Iran's president calls for an end to foreign interference in Syria's affairs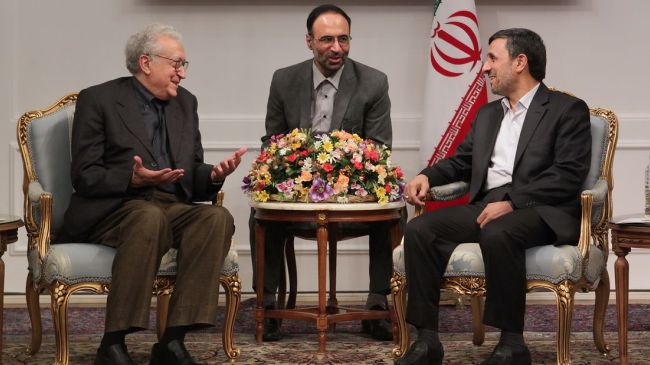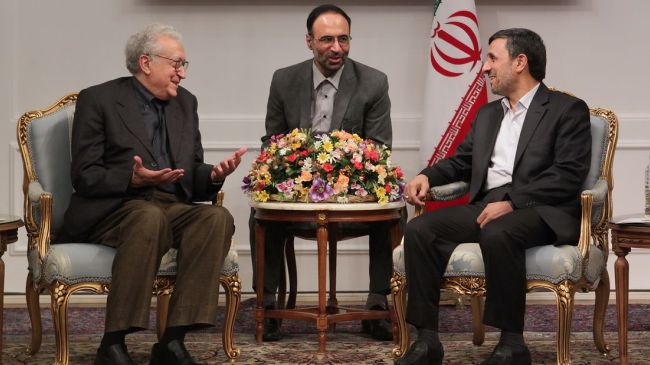 Iranian President Mahmoud Ahmadinejad has called for an end to foreign interference in Syria's affairs, saying all who meddle in the country's internal affairs must back off and respect the rights of Syrian people, Press TV reports.
Ahmadinezhad made the remark during a meeting with the UN-Arab League Special Envoy to Syria Lakhdar Brahimi in Tehran on Sunday.
"Unrest in Syria means expansion of insecurity in the whole region, and any attempt to disintegrate Syria means constant instability for decades, due to tribal structure of the Syrian society," he said.
The Iranian president also stated that the Syrian nation will be able to hold a fair election when their country is free from meddling.
Brahimi, for his part, said that Tehran could play a crucial role in bringing the Syrian crisis to an end.
Brahimi arrived in Tehran on Sunday for talks over the ongoing unrest in the Arab country and will leave Tehran for the Iraqi capital Baghdad on Monday.
Syria has been experiencing unrest since March 2011.
Damascus says outlaws, saboteurs, and armed terrorists are the driving factor behind the unrest and deadly violence while the opposition accuses the security forces of being behind the killings.
The Syrian government says that the chaos is being orchestrated from outside the country and accuses Saudi Arabia, Qatar, and Turkey of arming the opposition.
Syrian President Bashar al-Assad said in August that the country is engaged in a "crucial and heroic" battle that will determine the destiny of the nation.