Iran
Middle East
Iran's president visits flood-hit Sistan & Baluchestan Province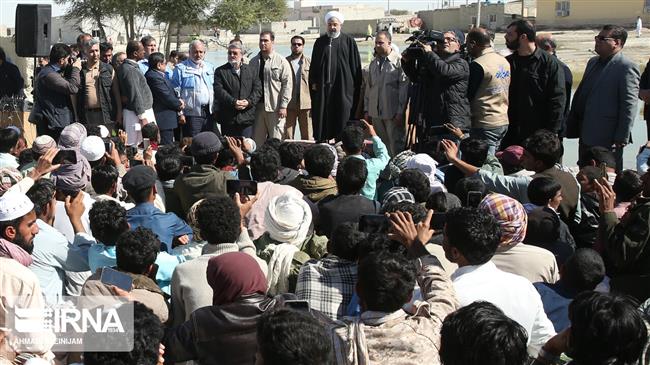 Rouhani arrived at Chabahar/Konarak International Airport Saturday morning and was then flown by helicopter to flood-hit areas.
He is also expected to attend a meeting of Sistan & Baluchestan's Department of Crisis Management.
The president is accompanied by several ministers during his one-day visit to the impoverished province.
Heavy rains, which started on January 9, caused flash flooding there as well as in adjacent provinces of Kerman and Hormozgan.
Sistan and Baluchestan was affected in the most severe way due to record-breaking precipitation it received which is 26 times more than last year.
Unprecedented floods have destroyed the province's infrastructure, blocked roads and damaged 20,000 houses.
They have also killed more than 7,000 livestock and washed away what farmers had planted in their lands.
Iran's Minister of Roads and Urban Development Mohammad Eslami said on Thursday that the flooding has inflicted damages on Sistan and Baluchestan's roads, bridges and waterways worth 7,000 billion rials ($53 million).
"Over 800 rural roads were either damaged or washed away by torrential rains, but thanks to the efforts and dedication of road workers and the use of 375 heavy vehicles, all but 30 roads have reopened. All major thoroughfares are open and most secondary roads have been repaired," he said.
Earlier this week, Leader of the Islamic Revolution Ayatollah Seyyed Ali Khamenei ordered Iranian state-run bodies and nongovernmental organizations to provide more aid to people affected by severe flooding in several cities and villages in southern and southeastern Iran.
Ayatollah Khamenei orders more aid to flood-hit areas in southeast IranAyatollah Khamenei orders Iranian state-run bodies and nongovernmental organizations to provide more aid to people in flood-affected areas.
Additionally, Iranian Foreign Minister Javad Zarif offered his "thoughts and prayers" to the affected people in Sistan & Baluchistan.
"Unprecedented floods are ravaging #Iran's Sistan & Baluchistan province, with significant human & material costs," he tweeted. "Even as search and rescue ops continue, focus will be on restoring livelihoods."