Europe
Iran
Middle East
Iran's Rouhani: Europe responsible for any JCPOA violation consequences
Iranian President Hassan Rouhani says the three European signatories to the 2015 nuclear deal will be responsible for the consequences of any violation of the agreement.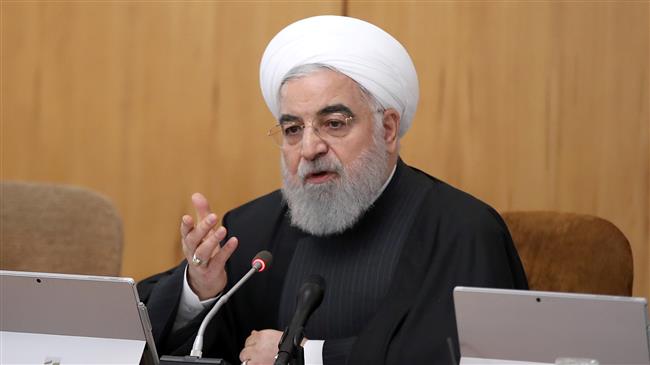 "I stress that if the three European countries commit any violation and renege on their promises, they will bear the full responsibility for any consequences," Rouhani said at a weekly cabinet meeting in Tehran on Wednesday.

"I hope that Europe will fulfill its pledges and commitments. If so, we, too, will commit to our obligations," he added.
He advised the EU3 – the UK, France and Germany – to avoid repeating the US' big mistake of leaving the deal, officially known as the Joint Comprehensive Plan of Action, and violating their commitments under the accord in breach of international rules and regulations.
Zarif: EU3 submission on JCPOA only whetted Trump's appetiteForeign Minister Zarif says America's renewed threat of tariffs on Europe's auto industry shows the EU3
He said that all the parties to the JCPAO were obliged to live up to their commitments, dismissing the US's "arrogant" behavior in violating its obligations while pressuring others to stick to their promises.
Rouhani also hit out at the European parties for failing to implement the 11 commitments they had undertaken to save the JCPOA following the US withdrawal from the deal in May 2018, and their recent bowing to Washington's threat ofimposing a punishing tariff on European car exports if they fail to accuse Tehran of breaking the nuclear deal.
Germany confirms report of US threat of higher tariff on EU auto sector over JCPOABerlin has confirmed that the US has threatened Germany, France and Britain of higher tariff on EU car exports over Iran's nuclear deal.
Having long accused the European Union of gaining an unfair trade advantage, US President Donald Trump's administration has threatened to slap a 25-percent tariff on European automobile imports, if Britain, France and Germany did not formally accuse Iran of breaking the nuclear deal.
In an apparent submission to the US pressure, the three European signatories on January 14 formally triggered a dispute mechanism devised in the 2015 deal, which could lead to the restoration of the anti-Iran UN sanctions that had been lifted by the JCPOA.
Zarif: Europeans sold out remnants of Iran deal to appease TrumpIran
Elsewhere in his remarks, Rouhani said that Iran has not left the JCPAO and does not seek to spoil it, adding that the reduction of Iran's commitments have been in line with the provisions of the accord. Rouhani also noted that Iran will return to full compliance with the deal if the European signatories fulfill their obligations.
The Islamic Republic of Iran has never sought and will never seek nuclear weapons based on a fatwa (religious decree) by Leader of the Islamic Ummah and Oppressed Imam Ayatollah Seyyed Ali Khamenei banning nukes and based on moral ethics, Rouhani said.
He also said Iran will never seek nuclear arms "even if the JCPOA and the Safeguards [Agreement with the UN nuclear agency] existed no longer."