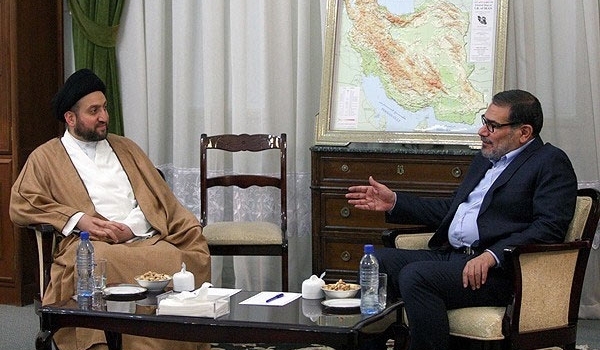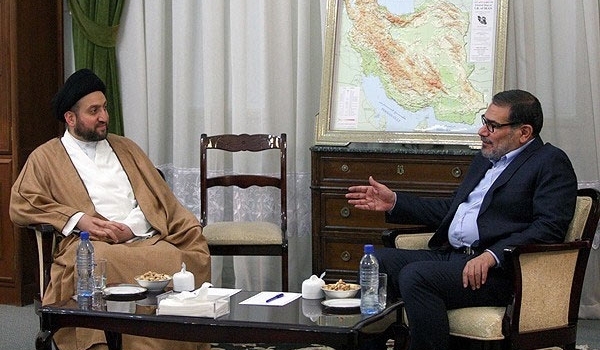 Secretary of Iran's Supreme National Security Council (SNSC) Ali Shamkhani in a meeting with Head of the Islamic Supreme Council of Iraq Ammar al-Hakim in Tehran on Sunday hailed the recent victories of the Iraqi army and popular forces as the outcome of unity between Shiite and Sunni forces on different political and military scenes.
"Unity (of Shiites and Sunnis) and integrity of Iraq is the most important cause of the success against Takfiri terrorists and their supporters who are trying to waste the capacities of the Muslim world through creating rift (among Muslims)," Shamkhani said during the meeting.
He reiterated that Iran will continue supporting Iraq in its fight against terrorism.
Hakim, for his part, briefed Shamkhani on the latest political, economic and security developments in Iraq, and said, "The policy of sowing discord and stirring conflict among different Iraqi groups that started during the presence of foreign military forces in Iraq backfired with consequences such as the emergence of ISIL in the country."
Earlier today, Supreme Leader's senior advisor Ali Akbar Velayati expressed pleasure in the Iraqi people and government's success in defeating terrorist groups, and said the terrorism in Iraq is moving on a downward slope.
"The terrorist groups like the ISIL and others are being defeated in Iraq and this has been done through the efforts of the Iraqi people, specially the popular forces, after the jihad fatwa was issued by Ayatollah Sistani and with the help of the popular and Iranian forces, and the terrorist groups which were once in power are now nearing demise," Velayati told reporters after meeting with Hakim in Tehran.