Iran
Middle East
Syria
Iran's Zarif meets with President Assad on Syria visit
Iran's Foreign Minister Mohammad Javad Zarif has met with Syrian President Bashar al-Assad shortly after arriving in the capital Damascus at his invitation.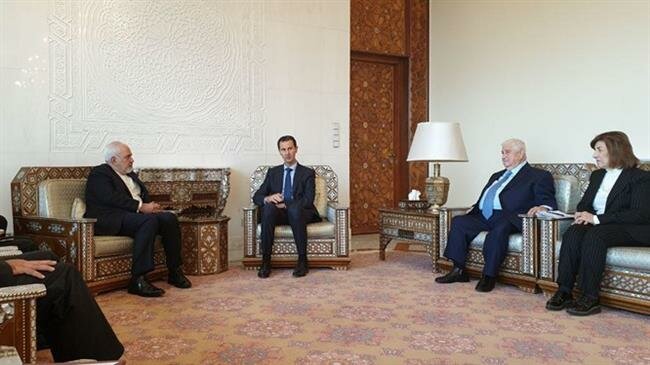 During their meeting on Tuesday, Foreign Minister Zarif and President Assad discussed the Astana peace process for Syria and the progress in the bilateral deals signed during Assad's trip to Iran in February.
Earlier on Tuesday, Zarif arrived at the Damascus International Airport at the head of a delegation and was welcomed by Syrian Deputy Foreign Minister Faisal Mekdad.
Zarif then visited the holy shrine of Hazrat Zeinab, the granddaughter of the Prophet Mohammad (PBUH), south of Damascus.
During his one-day stay in Syria, the top Iranian diplomat is scheduled to hold talks with other senior officials, including Prime Minister Imad Khamis and Foreign Minister Walid Muallem.
During his trip to Iran, Assad held talks with Leader of the Islamic Revolution Ayatollah Seyyed Ali Khamenei and President Hassan Rouhani.
Zarif will next travel to Turkey for a review of bilateral and regional relations.