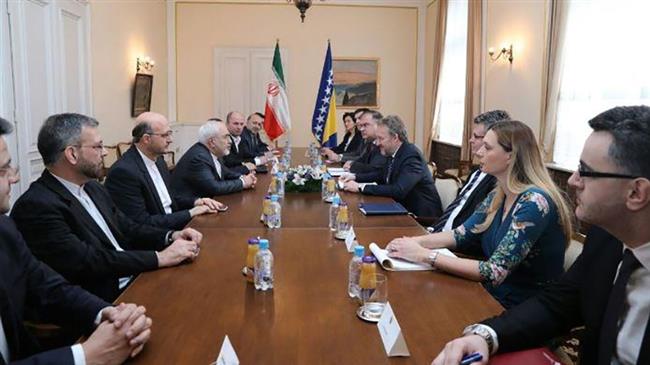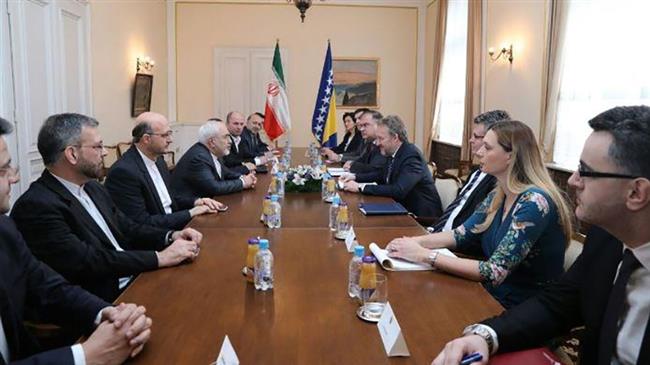 Iranian Foreign Minister Mohammad Javad Zarif says Iran and Bosnia and Herzegovina must jointly fight terrorism to promote peace and security in the region and across the world.
"The fight against terrorism and extremism is a common concern of Iran, Bosnia and the European Union. Extremism has nothing to do with Islam and other religions," Zarif said in a meeting with Bakir Izetbegovic, the Muslim Bosniak member of Bosnia's tripartite presidency, in Sarajevo on Friday.
"An ideological and cultural campaign against the dogma of extremism must be among the priorities. We can cooperate with each other in this field and regard it in the interest of regional and international peace and security," he added.
He further stressed the importance of removing obstacles in the way of developing trade ties and said Iran can be a secure energy supplier for Bosnia.
Izetbegovic, for his part, commended the proper level of political and cultural relations between Tehran and Sarajevo and said the lifting of sanctions against Iran has prepared the ground for improving economic cooperation.
Iran and the five permanent members of the United Nations Security Council – the US, France, Britain, Russia and China – plus Germany signed the landmark nuclear agreement – officially known as the Joint Comprehensive Plan of Action (JCPOA) – on July 14, 2015 and started implementing it on January 16, 2016.
Under the JCPOA, Iran undertook to put limits on its nuclear program in exchange for the removal of nuclear-related sanctions imposed against Tehran.
'Iran seeks to promote Bosnia stability'
Meanwhile, in a meeting with Bosnian Prime Minister Denis Zvizdic, the Iranian foreign minister said Tehran's policy is to help Sarajevo improve its national solidarity and stability through the cooperation of all ethnic groups.
"Iran has no limit for the expansion of relations and cooperation with Bosnia and Herzegovina," Zarif added.
He also noted that holding a session of the two countries' joint economic commission can lead to the development of cooperation.
The Bosnian prime minister also expressed his country's willingness to increase economic and trade cooperation with Iran.
He added that Tehran and Sarajevo enjoy cordial relations and emphasized that the two sides must sign a preferential trade agreement, establish banking cooperation and facilitate visa requirements as steps to strengthen trade and economic ties.
Iran ready for all-out ties with Bosnia
In a meeting with Chairman of Bosnia and Herzegovina's House of Peoples Ognjen Tadić, the top Iranian diplomat said Tehran is ready to expand relations with Sarajevo in all fields and emphasized that no obstacle can hinder the expansion of ties.
The two authorities exchanged views about the latest regional and international issues, particularly the campaign against terrorism and extremism.
In another meeting, the Iranian foreign minister and his Bosnian counterpart Igor Crnadak stressed the importance of fighting terrorists and extremists who pose a common threat against all countries across the world.
The two top diplomats also discussed ways to increase close cooperation at international organizations and circles.
Heading a politico-economic delegation, Zarif started his four-nation tour of East Europe and Balkans on Monday. He previously paid visits to Serbia, Bulgaria and Croatia and held talks with the three countries' senior officials.