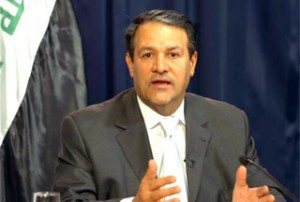 Iraq's government spokesman Ali al-Dabbagh has called on the United States to avoid any intervention in the issue of forming the country's new government.
Speaking at a press conference on Tuesday, Dabbagh said Washington has not intervened until now on the details of the government formation, but only observed the political situation in the country.
He also advised US Vice President Joe Biden not to interfere in the details of the formation of the future Iraqi government.
Dabbagh cautioned that any US intervention would raise serious suspicions of Washington's meddling in Iraq's internal affairs.
The remarks come amid a strong anti-US sentiment in Iraq and strong popular protests which led to the cancellation of Biden's planned visit to Baghdad.
Informed sources, however, said the vice president could travel to Iraq on an unexpected visit while it is not yet clear who would succeed Premier Nouri al-Maliki as prime minister following the fraud-tainted March 7 elections.
Former Premier Iyad Allawi's al-Iraqiya Alliance won the presidential contest for the 325 seats in the Council of Representatives. It, however, failed to secure a majority, having won only 91 seats.
Maliki's State of Law front won 89 seats and the rival Shia group, the Iraqi National Alliance, ended up with 70 seats.
Earlier in May, the two Shia fronts announced their decision to form an alliance, which would still stop four seats short of a parliamentary majority.
Iraqi President Jalal Talibani's Kurdistan Alliance has, meanwhile, said it would join the two factions should they form a partnership.
A recount of the ballots in the key Baghdad constituency, currently underway at Maliki's request, could still affect the number of seats won by each party.