Iraq
Iraq army advances against ISIL terrorists in Tikrit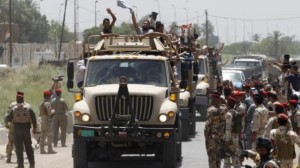 Iraqi security forces backed by thousands of volunteers have pushed ahead with their campaign against militants from the Islamic State of Iraq and the Levant (ISIL) in the northern city of Tikrit.
Iraqi officials said on Friday that the ongoing ground operations backed by air strikes are mostly focused on Tikrit University in Salahuddin Province.
The university campus is located in a strategic area outside Tikrit on the road to Baiji. Iraqi army officials also reported that sporadic clashes continue on the campus.
This comes as armed forces have also seized al-Alam district, south of Tikrit .
In a separate development, Iraqi troops regained almost full control over Diyala, except for the Sa'adiyeh district, which is still held by Takfiri militants. Iraqi sources say troops have also managed to clear al-Mansuriya district of the ISIL militants.
This is while an Iraqi cleric representing the Grand Ayatollah Ali al-Sistani has called on all political blocs to agree on the next premier, parliament speaker and president before the new parliament sits next week.
Sheikh Abdul Mahdi al-Karbalai added that selecting the three before the parliament meets would be a prelude to a political solution.
On Thursday, Iraq's vice president issued a decree calling on the parliament to start the process of forming a new government. The parliament is going to hold its first session on the issue on July 1.
Over the past days, heavy clashes have been underway between Iraqi armed forces and the ISIL terrorists, who have threatened to spread their acts of violence to Baghdad and other Iraqi cities.
Iraqi Prime Minister Nouri al-Maliki has vowed that the country's security forces would confront the foreign-sponsored militants.