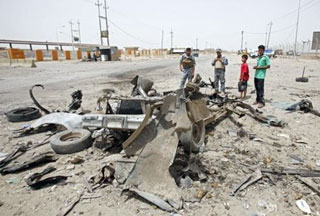 A terrorist attack in the Iraqi city of Khanaqin has reportedly claimed the lives of six Iranian pilgrims, leaving 31 others injured.
"The terrorist attack took place at around 11:00 pm local time Tuesday night," Ghasre-Shirin Governor Bahram Teimouri told IRNA on Wednesday.
"The terrorists attacked the Iranian pilgrims, who were traveling to the Iraqi capital Baghdad, with guns," he added.
According to Teimouri, the injured victims have been hospitalized in Khanaqin hospital and are reported to be in stable conditions.
"A total of 11 ambulances are currently at the Khosravi border crossing to transfer the injured to hospitals in Ghasre-Shirin and other cities in the province," he continued.
Located near the Iranian border on a tributary of the Diyala River, Khanaqin is a city in eastern Iraq, south of Kurdish regions.