Iraq elections could be delayed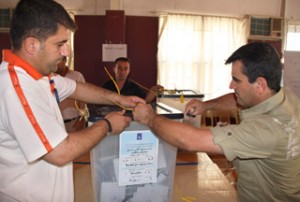 Iraq's electoral body has warned that the January elections will have to be delayed, unless the parliament adopts proper procedures in the next two days.
"We are entering a critical period," Qassim al-Abboudi, a senior official in Iraq's Independent High Electoral Commission (IHEC), told AFP.
"We have told [the] parliament that if it is not possible to approve the law in the next few days, at least they have to provide the electoral commission with the system to be used, the number of seats and the quota for women and minorities," he added.
Iraqi parliament has again postponed voting on an election law over which the lawmakers are deadlocked, AFP reported.
"If time runs out without getting this information, then the election date will be in danger", he warned.
Abboudi said he did not want to give a specific date to avoid negatively affecting discussions in the parliament.
Faraj al-Haidari, the chief of the IHEC, however, said that the procedural details would have to be in place by Tuesday.
The electoral law is supposed to be in place 90 days before voting, which should be held by January 31.