Middle East
Iraq
Iraq PM announces new anti-Daesh operation in visit to Tarmiyah
Iraqi Prime Minister Mustafa al-Kadhimi has announced a new security operation against Daesh remnants during a visit to the town of Tarmiyah, which recently witnessed a deadly attack by the Takfiri terrorist group against Popular Mobilization Units (PMU) or Hashd al-Sha'abi resistance fighters.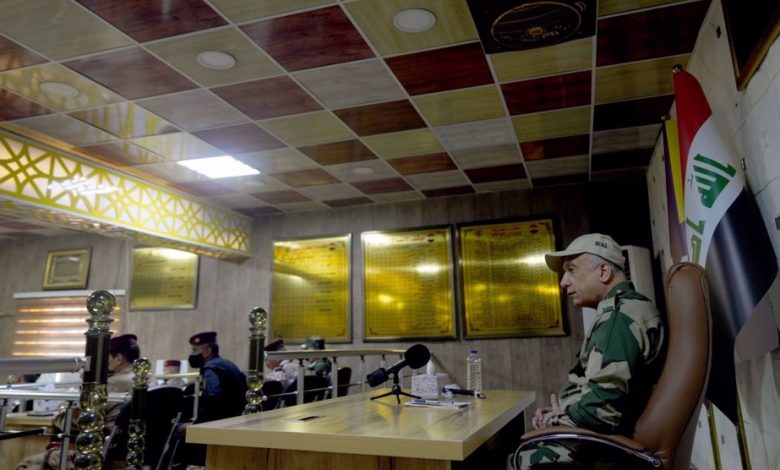 Speaking at Tarmiyah's military operations command on Monday, Kadhimi, who was dressed in military regalia, stressed that the fight against terror is a "collective responsibility" and requires cooperation between security forces and citizens.
"From here, I announce the launch of a security campaign in cooperation with the families of Tarmiyah … to eliminate Daesh sleeper cells," he said.
"We will not allow anyone to target the security services, and combating terrorism is the responsibility of everyone, whether the state or citizens," he added. "We have the army, the security services, and Hashd al-Sha'abi. We have instructed all the security services to cooperate and protect the citizens."
Kadhimi said Tarmiyah has "rightful demands for services and projects, but terrorism wants to target livelihoods" there.
On Friday, four members of al-Nujaba resistance movement, a subdivision of PMU, were killed in a Daesh attack against the headquarters of the 12th Hashd al-Sha'abi Brigade in Tarmiyah.
Daesh began a terror campaign in Iraq in 2014, overrunning vast swathes in lightning attacks.
Hashd al-Sha'abi played a major role in reinforcing the Iraqi army, which had initially suffered heavy setbacks in the face of Daesh's lightning gains.
Iraq declared victory over Daesh in December 2017 after a three-year counter-terrorism military campaign, which also had the support of neighboring Iran.
The terror outfit's remnants, however, keep staging sporadic attacks across Iraq, attempting to regroup and unleash a new era of violence.
Daesh has intensified its attacks in Iraq since January 2020, when the United States assassinated top Iranian anti-terror commander Lieutenant General Qassem Soleimani and PMU's deputy commander, Abu Mahdi al-Muhandis, near Baghdad International Airport.