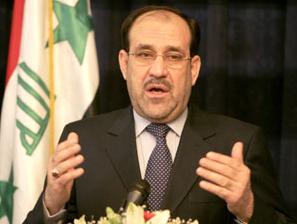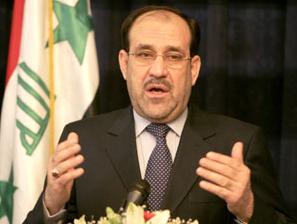 Iraqi Prime Minister Nuri al- Maliki called Wednesday for early parliamentary elections over a row with political rivals, including calls for no-confidence motion against Maliki.
"When the other party refuse to sit on negotiation table and insists on provoking successive crises, including heavily damaging the higher interests of the Iraqi people, the prime minister found himself obliged to call for early elections of which the final word will be for the Iraqi people," Maliki said in a statement posted on his official website.
Maliki also called on national dialogue after conducting reforms in all state institutions, "particularly the legislative authority (parliament), which needs fast and serious reforms."
The next parliamentary election is scheduled to be held in 2014.
According to article 64 of the Iraqi constitution, the parliament may be dissolved by absolute majority of the 325 parliament members, based on a request by either one-third of the parliament members (109), or by a request of the prime minister with the consent of the president of the Republic.
Upon the dissolution of the parliament, the president shall call for general elections within no more than 60 days, the government in this case will resign and turn to be a caretaker government, the article said.
However, the article also said that the parliament shall not be dissolved during the period in which the prime minister is being inquired by the lawmakers.
Soon after the U.S. troops fully withdrew from Iraq late last year, the country was plunged into a serious political row as Maliki sought to arrest his political rival Tariq al-Hashimi, a leading member of the Iraqia bloc, on allegation of terror-related activities.