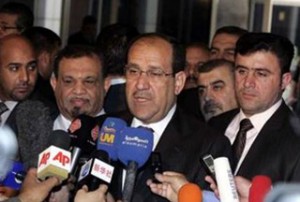 Iraq's Prime Minister Nouri al-Maliki has swept the vote in the country's largest province, Baghdad, early results from parliamentary elections show.
With 60 percent of ballots counted, the prime minister's Rule of Law Alliance garnered 518,203 votes, with the Iraqiya bloc of secular ex-premier Iyad Allawi coming in second with 453,028, AFP reported Monday.
The Iraqi National Alliance (INA), a coalition of Shia religious groups, was in third place with around 323,975 votes, according to the report.
Earlier results released on Saturday, based on 18 percent of ballots counted, had put the Rule of Law around 50,000 votes ahead of both Iraqiya and the INA.
More than 6,200 candidates from six major coalitions and several other tribal and minority groups contested the parliamentary elections on March 7.