Iraq
Middle East
Iraq publishes list of 60 most-wanted militants, Ba'ath loyalists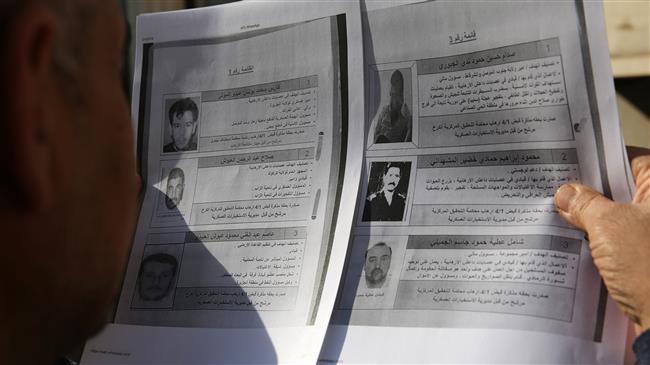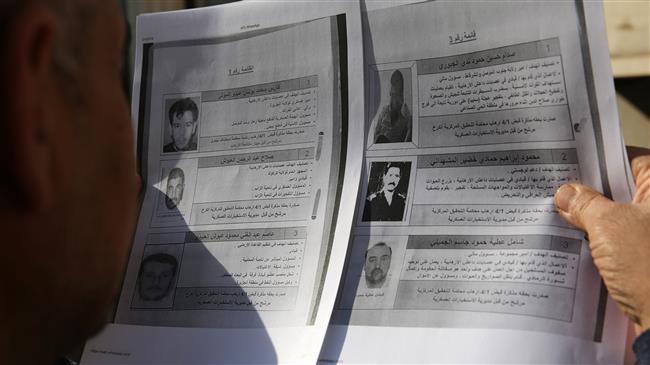 Iraqi security services have published the names of 60 people wanted on suspicion of affiliation to Daesh and al-Qaeda Takfiri terrorist groups as well as the banned Ba'ath Party of slain dictator Saddam Hussein.
The list includes the name of Saddam's eldest daughter, Raghad, who lives in Jordan under the protection of King Abdullah II, but her whereabouts remain unknown.
In August 2007, the International Criminal Police Organization, more commonly known as Interpol, circulated an arrest warrant for Raghad, on suspicions that she and her aides had been assisting militancy and terrorist attacks in Iraq.
German-language news website Spiegel Online published an article in August 2014, stating that she is using her multi-million-dollar wealth to support Daesh, hoping to return to power in Baghdad.
The list also features 28 suspected Daesh Takfiris, 12 al-Qaeda militants and 20 Ba'athists, giving details of their roles in their outfits as well as the acts of terror they have perpetrated.
This is while the name of the elusive leader of the Daesh Takfiri terrorist group, Ibrahim al-Samarrai aka Abu Bakr al-Baghdadi, is not on the list.
"These are the terrorists most wanted by the judicial authorities and the security services," a senior security official said on condition of anonymity.
He added, "This is the first time we publish these names which, until now were secret."
On December 9, 2017, Iraq's Prime Minister Haider al-Abadi declared the end of military operations against the Daesh terrorist group in the Arab country.
"Our forces are in complete control of the Iraqi-Syrian border and I therefore announce the end of the war against Daesh," Abadi told a conference in Baghdad then.
On October 5, Abadi said Iraqi armed forces had liberated Hawijah, driving Daesh Takfiris out of their last bastion in the oil-rich northern province of Kirkuk.
The Iraqi prime minister said on August 31 that the northwestern city of Tal Afar, located 200 kilometers northwest of Kirkuk, and the entire Nineveh Province had been purged of the Daesh Takfiri terrorist group.
The recapture of Tal Afar was made possible with the help of the Iraqi army, Federal Police, Counter-Terrorism Service (CTS) units, Hashd al-Sha'abi fighters and the Interior Ministry's elite rapid response forces, the Iraqi prime minister stated.
On July 10, Abadi formally declared victory over Daesh extremists in Mosul, which served as the terrorists' main urban stronghold in the conflict-ridden Arab country.
In the run-up to Mosul's liberation, Iraqi army soldiers and volunteer Hashd al-Sha'abi fighters had made sweeping gains against Daesh.
The Iraqi forces took control of eastern Mosul in January 2017 after 100 days of fighting, and launched the battle in the west on February 19 last year.
Daesh began a terror campaign in Iraq in 2014, overrunning vast swathes in lightning attacks.