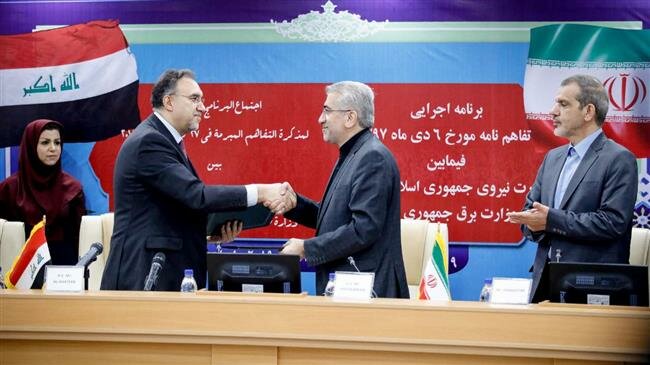 Iraq's Electricity Minister Luay al-Khateeb says his country brushed aside US demands that Baghdad stop gas and power imports from neighboring Iran.
Khateeb, whose remarks were quoted by Iraqi media on Monday, did not say whether the Americans had made the demand after ending waivers for exports of crude oil from Iran this month.
US pressures on Iraq to wean itself off Iran has become a major point of conflict between Washington and Baghdad. A lightening rod in their spat is Iraq's reliance on Iranian gas imports to generate electricity consumed daily in the country.
Washington is pressing Baghdad to source them from other countries or develop its own energy self-sufficiency. Iraqi leaders say the country cannot stop Iranian gas imports without serious electricity shortages.
In their latest back and forth, Iraq told the Americans that it needed Iran gas imports for at least three more years, Khateeb said.
"Iraq now imports nearly 1,200 megawatts of electricity from Iran. It also imports gas from Iran to produce another 2,800 megawatts of electricity," the Iraqi minister said.
"If in the next two to three years, large projects are implemented in the field of electricity generation, we can reach self-sufficiency and need no more imports," he added.
Iraq has signed agreements with General Electric and Siemens over potential deals to develop the country's power infrastructure.
Siemens had been favorite to win a contract to supply 11 gigawatts of power-generation equipment in a possible $15 billion deal, but the German group has to share the work with US rival after pressure from the Trump administration.
Washington is also pushing for Saudi Arabian and Kuwaiti investment in Iraqi power infrastructure in order to reduce Iran's trade share.
Without Iran, however, Iraq could lose around a third of its power overnight. The Arab country faces sweltering months ahead when the electricity shortage becomes acute.
The shortage sparked violent protests in southern Basra last September, which spread to other cities, including Baghdad.
Iran is also Iraq's third-largest trading partner, with an estimated $12 billion in cross-border trade per year, and the countries share strong cultural, religious and geographic ties.
Last month, Iraqi Prime Minister Adel Abdul-Mahdi visited Iran for his first official visit since he took office and the two countries pledged to raise trade to $20 billion in two years.
Head of the National Iranian Gas Company (NIGC) Hassan Montazer Torbati said this month that Iran is about to raise gas exports to neighboring Iraq to 35 million cubic meters a day this year.
"Last year we exported gas to Turkey, Baghdad and Basra with an average of over 40 million cubic meters a day, and this year, gas exports to Iraq will reach more than 35 million cubic meters per day," he told a news conference in Tehran.