Iraq
Iraq set to start operation to free the town of Hit in Anbar Province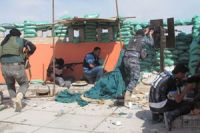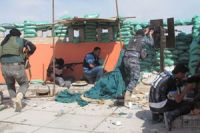 The Iraqi armed and volunteer forces are set to launch an operation to liberate the town of Hit in Anbar Province in two days after they inflicted heavy losses on the ISIL terrorists in Tikrit and Baiji.
According to Press TV, the commander of military operations in Anbar says the battle to liberate Hit will start after the army secures the safe exit of civilians who are being used there as human shields by the Takfiri terrorists.
With new ammunitions at their disposal, top commanders say the armed forces are prepared for the operation, but the two-day delay is aimed at preventing losses of civilian lives inside residential neighborhoods.
Elsewhere in the province of Babylon, the Iraqi Air force has targeted ISIL hideouts, inflicting heavy losses on them in the area of Jerf Sakher.
Political analyst Jassem al-Mouswai told Press TV "The situation is getting better. The ISIL had to retreat from some Iraqi cities, due to the military operations, the army's advances and the global awareness that the ISIL is a terrorist organization that must be defeated. Of course, the army needs time to win the battle."
In the province of Salaheddin, security forces foiled an ISIL attack on the Baiji refinery, killing 20 militants and destroying their vehicles.
The army has also managed to foil the ISIL attempts to cut the road linking the province with the capital Baghdad.