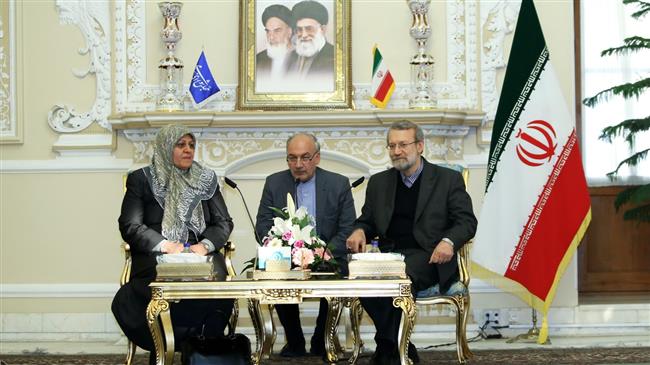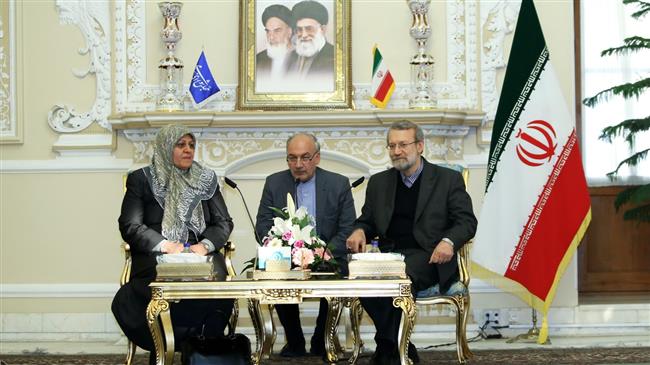 Iran's parliament (Majlis) speaker Ali Larijani has hailed Iraq's new achievements against terrorists, saying the entire Middle East region will benefit from restoration of stability and peace to the Arab country.
"The Iraqi government's success in restoration of peace and stability to the country benefits the entire region," Larijani said in a meeting with Iraqi Health Minister Adilah Husayn in the Iranian capital, Tehran, on Tuesday.
Larijani reaffirmed Tehran's support for Baghdad and said Iran will continue to stand by Iraq in the wake of new regional developments.
"Iran feels duty-bound to support and assist the Iraqi government and nation in all spheres and Iraq can count on our help," he said.
The Iraqi official, for her part, praised Iran's support of her country and said the Iraqi government seeks to restore stability. She added that the Islamic Republic has played a key role in this respect by offering help to Iraq in different areas.
She said the Iraqi nation is in dire need of humanitarian aid from Iran, including medical supplies and equipment, as the country is facing a wave of terrorist attacks.
ISIL terrorists are currently in control of large areas across Iraq where they have been carrying out horrific acts of violence against different Iraqi communities such as Shias, Sunnis, Kurds, and Christians.
Iran has repeatedly stressed that it will not interfere militarily in Iraq, but that the Islamic Republic continues to provide support to the Arab country against ISIL in the form of defense consultation and humanitarian aid.