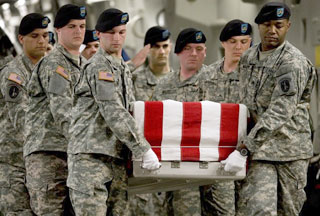 A US marine has been killed in the western Iraqi province of Al-Anbar in the latest in a series of incidents against US troops in the country.
A brief US military statement said Sunday that the soldier died as "a result of enemy action" without giving further details about the incident.
The attack, which came three days after three US soldiers were killed in an attack on their base in the southern Iraqi province of Basra, brought to 4,327 the number of US soldiers killed in Iraq since the 2003 invasion.
Thursday's deaths marked the first US military personnel to die as a result of violence since American troops withdrew from Iraq's urban centers on June 30 as part of a Washington-Baghdad security pact.