Iraq
Iraqi army decimates Daesh militants west of Karbala: Vide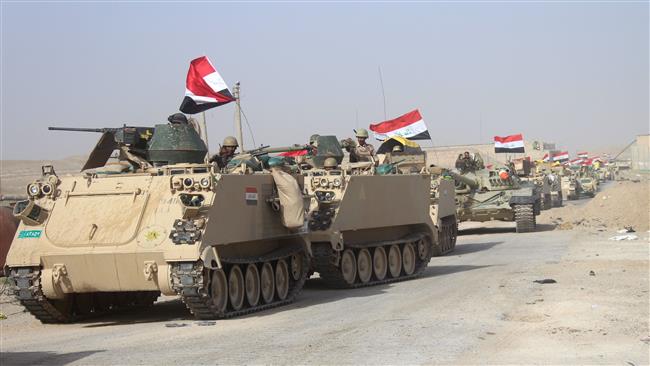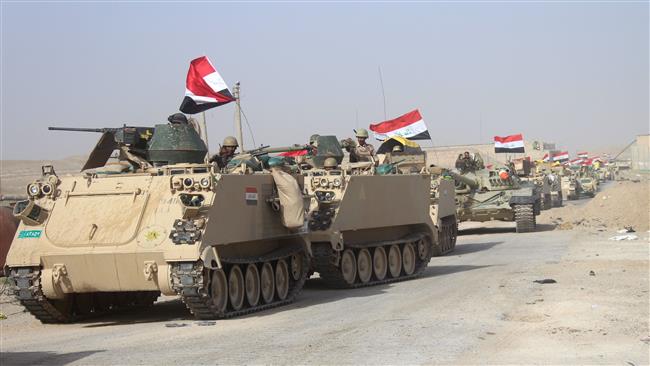 Scores of Takfiri Daesh terrorists have been killed in an operation by the Iraqi air force in the country's central province of Karbala.
The Iraqi Defense Ministry, in a statement released on Thursday, said the Daesh terrorists were killed as Iraqi military aircraft launched precision strikes against a number of militant hideouts and vehicles close to Lake Milh, also known as Razzaza Lake, which lies a few kilometers (miles) west of the provincial capital city of Karbala. The ministry later released footage showing the airstrikes.
Iraqi officials said earlier in the day that Iraqi army aircraft had targeted a convoy of Daesh militants as the Takfiris were fleeing the strategic western city of Fallujah, located roughly 69 kilometers (43 miles) west of the capital Baghdad, after army forces and allied Popular Mobilization Units retook it on June 17.
"More than 20 helicopters took part in the mission and were able to destroy more than 138 vehicles," Iraqi army commander Lieutenant General Hamid al-Maliki said in the aerial footage released by the Defense Ministry late on Wednesday night.
Maliki stressed that Iraqi helicopters carried out all of the strikes and "no other force took part in the operation."
The footage showed hundreds of Daesh vehicles, including pickup trucks, minibuses and cars, being struck.
Meanwhile, Iraq's Joint Operations Command (JOC) said the country's forces had destroyed 603 Daesh vehicle during aerial strikes conducted from Wednesday to Thursday.
JOC spokesman Yahya Rasoul said commandos had also seized large quantities of weapons and ammunition after the airstrikes.
"This is a desperate attempt on the part of the terrorists to flee to their areas in al-Qaim near the Syrian border and Tharthar," Anbar Operations Command chief Staff Major General Ismail al-Mahalawi said.
Security forces liberate new Daesh-held areas 
Also on Thursday, the Iraqi security forces retook control of the villages of al-Derbas and Albu Wawi near the town of Qayyarah, located about 35 miles (60 kilometers) south of the militant-held city of Mosul.
Separately, security personnel recaptured Albu Eifan area southwest of Fallujah.
The northern and western parts of Iraq have been plagued by gruesome violence ever since Daesh terrorists mounted an offensive in the country in June 2014.
Iraqi government forces, backed by fighters from allied Popular Mobilization Units, have been pushing the militants out of the country's territory.