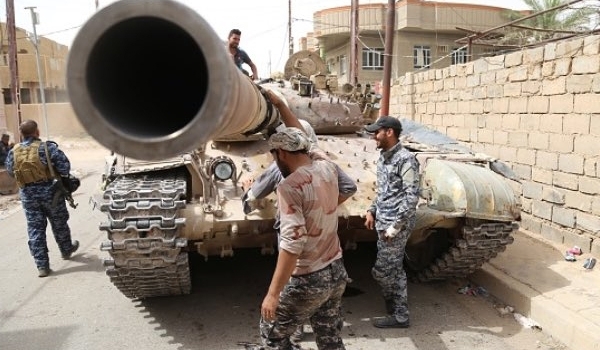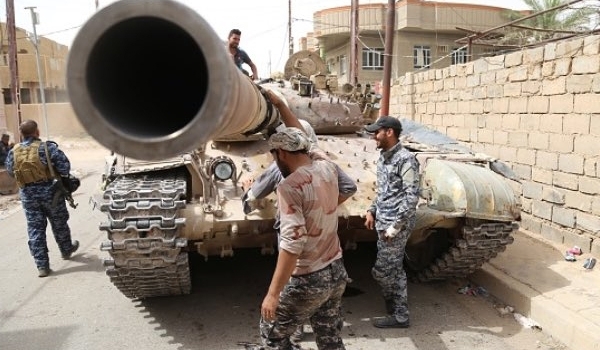 Iraq's joint military forces managed to seize back a strategic region in the city of Fallujah from the ISIL Takfiri terrorists.
The Iraqi joint forces took back Hay al-Moalemin region from the ISIL on Saturday.
Tens of ISIL terrorists were killed in fierce clashes with the Iraqi government troops in the battle over Hay al-Moalemin region of Fallujah city.
Meantime, the Iraqi Federal Police Command Headquarters announced that the Iraqi forces have entered Hay Julan region in Fallujah city on Saturday.
The Iraqi forces have successfully accomplished their mop-up operations in almost 90 percent of Fallujah city.
Last Friday, Iraq's Police Chief declared full liberation of Fallujah after the two-year-long ISIL control over the strategic city.
Commander of Iraq's Federal Police Major General Raed Shaker Judat appeared on the country's national TV in an interview carried out at the center of Fallujah, declaring that the city has been completely purged of ISIL terrorists.
Meantime, Fallujah Liberation Operation Commander Abdol-Wahhab Saedi told the state-run TV that his forces are in control of the entire city and state buildings.
The victory by the Iraqi forces came as they continued their clashes with ISIL militants in Iraq's Western province of Anbar.