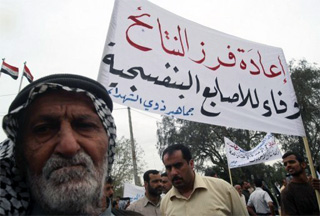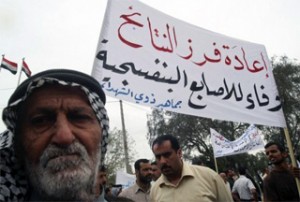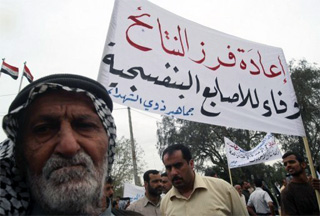 Hundreds of Iraqis have taken to the streets in the southern city of Basra to demand the nationwide recount of votes from the country's March 7 parliamentary elections.
The demonstrators who support Prime Minister Nouri Maliki's demand for a manual recount of around 12 million ballots, gathered outside the provincial government's offices in Basra on Wednesday.
They held placards reading "We demand a recount," and shouted "No! No to fraud, Yes! Yes to Maliki, Yes! Yes to Iraq."
Hundreds of people had also took to the streets of Najaf and Karbala a few days ago to protest the results which gave Maliki's main rival, former premier Iyad Allawi a slim lead in a tight election race, based on 95 percent of votes cast.
Over the weekend, the national election commission rebuffed Maliki's demand for a manual recount of the ballots cast, saying as it had not seen any widespread fraud in the election, any recount is unnecessary.
It said that political parties and groups would have to present evidence of wrongdoing to substantiate their complaints before full results are announced on Friday.
In a statement released on Wednesday, the heads of 10 provincial councils called for the election commission to authorize a recount of the votes due to the possibility of fraud "and manipulation of the election results."
The statement said "if the commission does not respond to the demand of the provincial councils … the 10 provinces will begin a major escalation of measures."