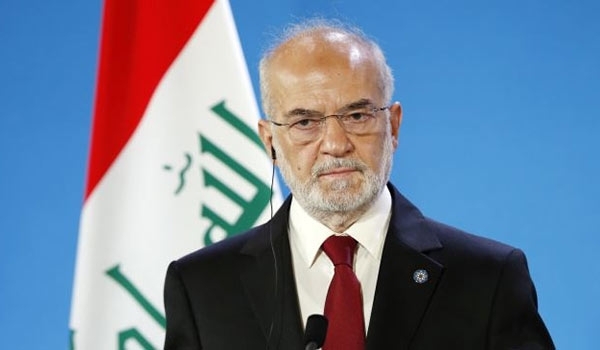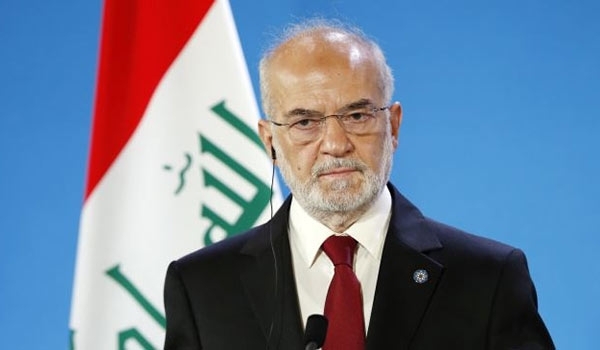 Iraqi Foreign Minister Ebrahim al-Jafari underlined that Islamic Revolution Guards Corps (IRGC) Quds Force Commander Major General Qassem Soleimani is in Iraq to help the country in campaign against terrorism after receiving Baghdad's rigid request.
"General Soleimani is in Iraq at the invitation of the Iraqi government to provide military counseling to the Iraqi forces," the Arabic-language Sumeria news channel quoted al-Jafari as saying.
In relevant remarks last Sunday, Hashd al-Shaabi (volunteer forces) Commander Abu Mehdi al-Mohandes underlined that General Soleimani is helping the Iraqi forces in their campaign against terrorism upon a request by the Iraqi government.
"The Iranian advisors, headed by dear brother Qassem Soleimani, have been beside us since the start of war and his presence has happened upon the demand of the Iraqi government and agreement of the Armed Forces' top commander," Mohandes said in an interview with Sumeria news channel.
He, meantime, said that the Iraqi nation is able to kick the terrorists out of Iraq with the possibilities in their hands now, adding that Hashd al-Shaabi doesn't have any political plan and merely supports the political process.
In relevant remarks earlier, a representative of Hashd al-Shaabi appreciated Iran and General Soleimani for assisting his country in the campaign against terrorism and safeguarding its territorial integrity.
"We were surrounded in Samarra and had lost everything but this brave commander (General Soleimani) came to our help with all his forces and broke the siege," Seyed Hamid Hosseini said, addressing the Shiite pilgrims in the Central city of Qom.
"If the Islamic Republic of Iran and its leader didn't help us, I say very explicitly that no Iraq wound exist today," he added.
Iran is providing Iraq and Syria with military advisory and humanitarian aid in their fight against terrorist groups.
General Soleimani said in March that Takfiri terrorism threatens all Muslims, and Iran has waged war on those terrorists that trade enslaved women and children.
"The fire of Takfiri and Takfirism has engulfed in homes of our Sunni brothers. Those behind this are under the illusion that they can bring Shiism and the Islamic Republic to their knees. More than anywhere else, Takfiri groups have targeted the sanctity of humanity and the Sunni world," General Soleimani said, addressing a ceremony in Tehran.
General Soleimani then asked those behind the smear campaign to question Iran's policy in its ongoing war on terror, "Is it adventurism if the Islamic Republic makes sacrifices to defend Muslims? Is it wrong for the Islamic Republic to battle a group that in just one region is buying and selling some 20,000 unfortunate enslaved young women? Is it wrong for the Islamic Republic to stand against the anti-Muslim current and stop the demolition of Mosques and Muslim holy sites?"
His remarks came after Iraqi Minister of Human Rights Mohammed Mahdi Ameen al-Bayati said the Takfiri ISIL terrorist group has sold more than 5,000 women and girls merely from Iraq's Izadi Kurdish minority in their slave market.