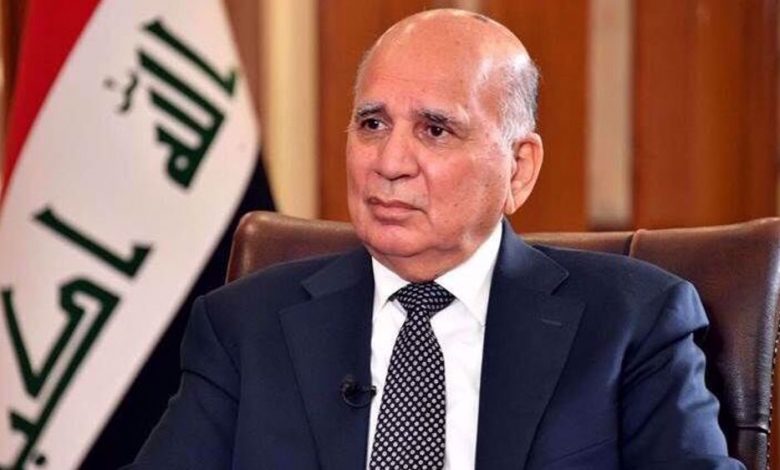 Iraq's Foreign Minister Fuad Hussein has arrived in Tehran for a second official visit to the Islamic Republic in a month.
Iran's Foreign Ministry spokesman Saeed Khatibzadeh said on Saturday that Hussein will meet with his Iranian counterpart, Mohammad Javad Zarif, and other political and security officials.
In early February, the top Iraqi diplomat visited Iran and held talks with Zarif as well as President Hassan Rouhani, Parliament Speaker Mohammad Baqer Qalibaf and Secretary of the Supreme National Security Council Ali Shamkhani.
During the visit, Hussein expressed Baghdad's interest in expanding its ties with Tehran in all areas.
Iraq's foreign minister said the Iraqi nation and government are always grateful towards Iran for its contribution to the Arab country's anti-terror struggle, especially against Daesh, "and would never forget this." https://if-cdn.com/1keVj8B?v=1&app=1
Hussein's visit comes two weeks after Iran's Judiciary chief Ebrahim Raeisi visited Iraq and held important meetings with Iraqi Prime Minister Mustafa al-Kadhimi, President Barham Salih, Parliament speaker Mohamed al-Halbousi and head of Iraq's Supreme Judicial Council Fayeq Zeidan.
The key aim of Raeisi's visit was to follow up the dossier on the US assassination of Iran's legendary commander General Qassem Soleimani and his Iraqi trenchmate Abu Mahdi al-Muhandis in a drone strike in Baghdad on January 3, 2020. General Soleimani led Iran's military advisory support to Iraq, and was a key figure, along with al-Muhandis, in the final battle against the Daesh Takfiri terrorist group in Iraq in 2017. https://if-cdn.com/4Hstn64?v=1&app=1
In 2014, when Daesh unleashed its campaign of terror in Iraq, Iranian military advisers rushed to the aid of Iraqi armed forces on Baghdad's request, helping them reverse Daesh's gains and ultimately liberate their entire homeland from the terrorist outfit some three years later.
According to Iraqi leaders, the crucial aid came just as Daesh had reached the gates of Baghdad and Iraq's desperate pleas for help from the US and other countries had gone unanswered.