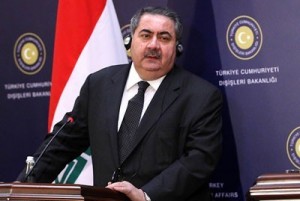 Iraqi Foreign Minister Hoshyar Zebari reiterated Iraq's support for holding the international conference Geneva 2 on Syria to solve the crisis in the country as soon as possible.
In a press conference with his Turkish counterpart Ahmet Davutoglu in Turkey, Zebari stressed the need to find a solution to the crisis in Syria as soon as possible as it affects all peoples of the region.
"The longer the crisis continues, the more the risks to our countries and national security get," said Zebari. "Therefore, we support communication to work to reach the best solutions to put an end to the daily humanitarian tragedy."
He highlighted the importance of not putting preconditions for the Geneva 2 conference and to have it convened as soon as possible with all the parties participating in the negotiating table to discuss Syria's future.
Zebari added that all other issues related to the neighboring countries of Syria can be settled in the framework of dialogue, stressing that the conference's goal is to help the Syrians draw out a map for the future.