Iraq
Iraqi forces fully recapture Mosul University from Daesh: Source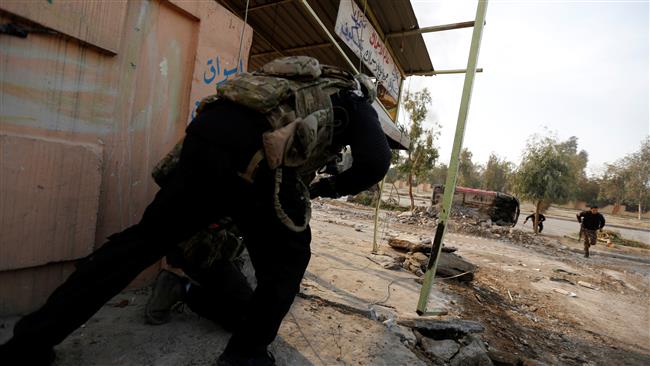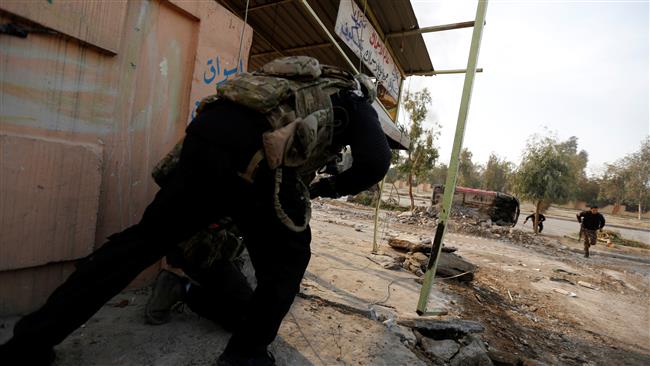 Forces with the Iraqi Counter Terrorism Service (CTS) have fully liberated the Mosul University, in a key advance against the Takfiri Daesh terrorist group in the strategic northern city.
A security source, speaking anonymously to al-Sumeria, said the full liberation of the university's premises occurred on Saturday. A day earlier, Iraqi special forces had entered the university's compound and liberated a number of its buildings.
The university served as a base to the terrorists, who have reportedly been using its laboratory to produce chemical weapons.
Abadi censures sectarianism
In a separate development on Saturday, Iraqi Prime Minister Haider al-Abadi said during a conference on Iraq's political and security prospect in a post-Daesh era, that Iraq will not be a threat to any of the regional countries once its battle with the terrorist group is successfully over. He said a number of countries fear a post-Daesh Iraq, implying that those countries seek to stir sectarian tensions.
Iraqi President Fuad Masum, also speaking at the conference, said that most of the previously-occupied Iraqi cities have been recaptured from Daesh and that the full liberation of Mosul will take place in the near future.
Iraqi commander killed
Also on Saturday, a commander of Iraq's Popular Mobilization Units (PMU) was killed during a battle with Daesh terrorists near the eastern city of Baqubah.
The commander was killed along with five other PMU fighters in an area 55 kilometers northeast of Baqubah.
Iraqi forces have destroyed five Daesh bases 90 kilometers northeast of the city.
Elsewhere, in the western province of Anbar, Iraqi army forces thwarted a Daesh car bomb attack, which sought to target an army base.
A Daesh commander, identified as Abu Heydar al-Askari, was also killed in western Mosul.
Members of the CTS have made further advances against Daesh in Mosul, pushing the militants out of several districts in the eastern quarter of the strategic city.
Iraqi army soldiers, supported by fighters from Popular Mobilization Units — commonly known by their Arabic name Hashd al-Sha'abi — and Kurdish Peshmerga forces, launched a joint operation on October 17 to retake Mosul from Daesh terrorists. Mosul is the last urban area under Daesh's control in Iraq.
A total of 137,880 people have been displaced from Mosul and neighboring areas ever since the start of the operations, according to figures released by the International Organization for Migration (IOM) on January 9.
Daesh unleashed a terrorist campaign in Iraq in 2014.